9 Crimes
Talk

0
1,361pages on
this wiki
"9 Crimes" is the fourth episode of Season 3 of the HBO original series True Blood, and the series' twenty-eighth episode overall.
Sookie joins Alcide at a rowdy engagement party for his former fiancée, Debbie Pelt; Eric is given a deadline to locate Bill; Andy gets a promotion and draws Jason's attention; Franklin takes Tara on a road trip; Arlene is annoyed by Jessica's arrival at Merlotte's; Sam makes a deal with Tommy and his parents; Bill "procures" dinner for Russell and Lorena.

"Believe what you want. You are no longer of concern to me.
Do not try to find me. I do not wish to be found."
― Bill Compton, attempting to end his relationship with Sookie Stackhouse
As Sookie Stackhouse tends to the wounds of Alcide Herveaux and chats with him about his relationship with Debbie Pelt, Bill Compton calls to end his relationship with Sookie. Bill says that he has just had sex with Lorena Krasiki, and that he no longer wants to be with Sookie. Sookie is devastated by this development, and turns to Alcide for comfort.
After speaking with Sookie, Bill blasts Lorena for her evil ways, and tells her he wants nothing to do with her. He then speaks with Russell Edgington, and tells him that he used to be a procurer for Louisiana Vampire Queen Sophie-Anne Leclerq. Russell promises to remove the threat Sophie-Anne poses to Bill, prompting Bill to reveal that Sophie-Anne has been using Eric and Pam Swynford De Beaufort to sell V.
Sam Merlotte tracks down his younger brother Tommy Mickens, and discovers that his parents are living in a van in the parking lot of Merlotte's Bar and Grill. Sam informs his mother that Tommy is a thief, but she defends the boy, saying they are behind on rent and need the cash. Sam finds Tommy in the woods and tries to convince him to leave their parents, who have been abusive towards Tommy. Tommy says he has no choice, that their parents need him and he won't be on his own until they're dead. Sam tells his parents he will give them a place to stay as long as there is no more stealing or drinking.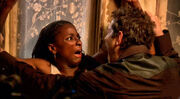 Franklin Mott grills a glamored Tara Thornton about the whereabouts of Sookie, Bill and Jason Stackhouse. Tara initially complies, but soon realizes what is happening and seeks to escape from Franklin. Franklin catches and bites Tara, then leaves her tied up. Franklin later takes Tara to his "employer", who is revealed to be Russell Edgington, but refuses to tell her anything else.
Sookie tells Alcide that she still wants to find Bill so that they can talk in person, and convinces him to take her to Debbie's engagement party at a nearby bar. Before leaving for the bar, Sookie reveals to Alcide that Debbie is addicted to V, and that she is going to be initiated into Cooter's werewolf pack. The pair head to Lou Pine's, where Sookie is accosted by Debbie. Debbie tells Alcide she no longer wants a relationship with him, despite that Alcide's goal is to save her from her V addiction. Debbie is then hoisted above the pack and taken towards the stage and branded with the pack's mark.
Russell Edgington appears on stage and bites into his own arm, letting his blood drip into several dozen shot glasses. Russell makes reference to having collaborated with the wolves "throughout the ages", and allows the wolf pack to drink his blood. He then leaves the bar to reconvene with Bill and Lorena, who are waiting in a limousine outside. After this, Cooter takes the stage and assumes his wolf form. Gradually, the rest of the bar starts to howl and turn to wolves. Realizing they are in danger, Alcide and Sookie flee the bar together.
Bill, Russell and Lorena drive to a club together, where Bill enters and finds a stripper named Anne. He glamours her to find if there is anyone who will miss her once she goes missing. Bill brings Anne to the limo, and senses that Sookie might be in trouble but does nothing. Russell, Bill and Lorena feast on the stripper, whose blood drips through the car floor onto the pavement.
During Bud Dearborne's retirement party, he introduces Andy Bellefleur as the new acting chief of police. Jason tells Andy he wants to be made a cop immediately, and threatens to reveal the truth about Eggs Talley's death if Andy doesn't comply.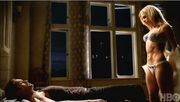 Sookie suggests that Bill still loves her, but is slapped and thrown out of Bill's house. Eric Northman appears at Sookie's window, and begins a sexual fling with her. Eric is then revealed to have been daydreaming the entire incident while watching a nearly naked Yvetta dance. He dismisses her and then leaves. 
At Merlotte's Bar, Arlene Fowler Bellefleur feels overwhelmed and demands help be brought in, leading to the hiring of Jessica Hamby. While working there, Jessica learns from an old high school friend that her parents have been telling everyone that Jessica is dead. Upset, Jessica glamours her friend so that he will forget having ever seen her. Out in the parking lot, Lafayette Reynolds attempts to make a V sale, but is thwarted when his car is stolen. Eric comes to Lafayette's aid and forces the men to take the V deal.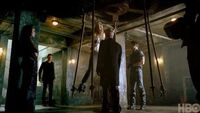 Eric returns to Fangtasia and finds the vampire Magister torturing Pam, who has refused to tell him about the V sales. Pam and Eric lie to the Magister, claiming that Bill Compton is behind the sales. The Magister is suspicious of their claims, and gives Eric two days to provide proof that Bill is selling V, or he will kill Pam.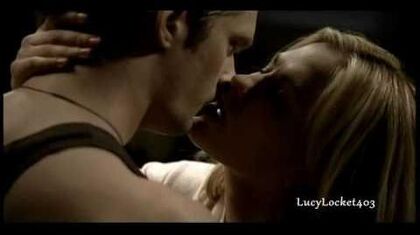 Memorable Quotes
Edit
Alcide Herveaux
Edit
"Why are they submitting to this Fanger?"
Russell Edgington
Edit
"A woman is only a woman, but a good cigar is a smoke. Rudyard Kipling. Not quite Shakespeare, but less impetuous. And he never stole spoons."
Sookie Stackhouse
Edit
"But I don't have a nut sack."
"I got skills you can't even dream of, cowboy."
Image Gallery
Edit
Video Gallery
Edit
References
Edit
External Links
Edit
Television without Pity's 10-page recap