Home
Talk

18
1,135pages on
this wiki

True Blood is a collaborative Wiki dedicated to the HBO series True Blood created by Alan Ball, based on Charlaine Harris's Southern Vampires Mysteries. Follow us on Facebook and Twitter! We don't bite...much.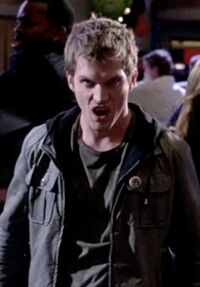 "If she can make us walk into the light let's chop her fucking head off!"
―Blackburn
Blackburn is a recurring character in the fourth season. He is portrayed by guest star Aaron Perilo and debuts in "Me and the Devil". Blackburn was one of Louisiana's Vampire sheriffs. An impulsive vampire with a violent attitude and an insatiable blood lust. As both a sheriff and a old acquaintance of Eric Northman and Bill Compton's, he travels to Bon Temps, Louisiana at the special request of his king to deal with the escalating necromancy crisis, but ultimately meets the True Death when he and his colleagues fall victim to the machinations of the witch Marnie Stonebrook.
Read more...


Become a True Blood Wiki Admin-
Do you love True Blood Wiki? Can you see yourself as an Admin? Find out the perks of being an Admin and what the job actually entails. First things first, Register! Then, start to edit! We need as much help as possible, especially since the new season has begun. Once we see certain editors making contributions that seem "Admin worthy", we will contact you, allowing you a probationary period of 2 weeks. Once those 2 weeks are up, you will then be upgraded from editor to "Administrator" (or as we call them here, "Sheriffs").
Read more...


Refresh
See more >
Loading RSS data...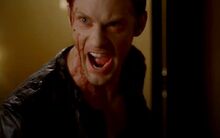 Save Yourself—
"Save Yourself" is the twelfth and final episode of Season 5 of True Blood, and the 60th episode overall. Eric embarks on a final, desperate mission to overthrow the Authority – and save Bill from losing his humanity. Andy faces the consequences of a light pact he made; Alcide readies for a second showdown with J.D.; Sam and Luna test their limits in trying to escape the Authority. The fairy try to prevent Russell Edgington from entering the fairy club.
Read more...

Which character's storyline are you most interested in catching up with in season 6?
See more >
Previous results: After more than 1400 votes were tallied 77% of you loved Season 5!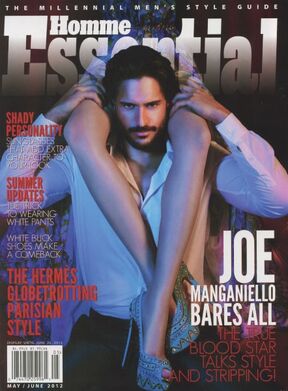 "New York City smells like pee and the people are rude." - Eric Northman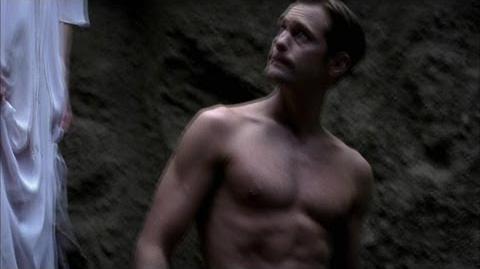 Create blog post
Refresh
On the page of Maxine Fortenberry I encoutered a Spamfilter problem which preents me from edditing it. I can't seem to find the code that is triggering it. Has anybody encountered other reports like …

Read more >
See more >