Background
Edit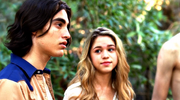 Alcide was born to
Jackson Herveaux
,
werewolf
packmaster
of Jackson, Mississippi. He had one sister,
Janice Herveaux
, who owns a hair salon. He was initiated into the Jackson pack as a youngster, but was later abjured along with his father after Jackson was ousted for stealing. He has preferred to live as a lone wolf.
Alcide began a relationship with werebitch Debbie Pelt as a teenager that continued into adulthood, and the two eventually became engaged. However, Debbie became addicted to vampire blood, and left Alcide for another werewolf named Cooter approximately one month before the events of "It Hurts Me Too".