Amy Burley
Talk

2
1,276pages on
this wiki
Date of birth
{{{Birth}}}
Powers
Strength From
V
Luxurious Hallucinations
[[:Category:{{{Images}}}|Images]]
"We honor Gaia, and seek the deepest relationship to her. By taking the blood of the night into our bodies we water the flowers of our souls. Nothing is real, Everything is permitted."
―Amy to Jason (Before doing V)
Amy Burley was a major character in Season 1. She met Jason Stackhouse at Fangtasia, the vampire bar in Shreveport while Jason was looking for "V". She eventually became his girlfriend, and more or less, his first love.
Personality
Edit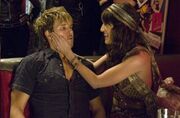 "Did you know that my sophmore year of college I walked away from a full academic scholarship so I could go to this poor Guatamalan village. Helped them build their very first irragation system. So they could have a fresh water. Crops, that didn't give them dysentery. So don't you dare get morally superior on me. I am an organic vegan and my carbon footprint is miniscule."
Amy was shown as being very environmentally conscious. She talked at length about how everything was inter-connected and that all living things shared the same energy. This is how she justified killing a vampire, claiming that they were not living creatures and were therefore wasting energy. Amy was a vibrant, articulated and somewhat of a systematic person, and was also a V addict, which involuntarily led to her death.
Appearances
Edit
Season two appearances
"

Nothing but the Blood

"
"

Keep This Party Going

"
"Scratches"
"Shake and Fingerpop"
"Never Let Me Go"
"Hard-Hearted Hannah"
"Release Me"
"Timebomb"
"I Will Rise Up"
"New World in My View"
"Frenzy"
"Beyond Here Lies Nothin'"
Season three appearances
"Bad Blood"
"Beautifully Broken"
"It Hurts Me Too"
"9 Crimes"
"Trouble"
"I Got a Right to Sing the Blues"
"Hitting the Ground"
"Night on the Sun"
"Everything Is Broken"
"

I Smell a Rat

"
"Fresh Blood"
"Evil is Going On"