Function
Air transportation for vampires
[[:Category:{{{Images}}}|Images]]
Anubis Air Airlines is a highly secured airline for vampires on the HBO original series True Blood. Established to fly vampires safely both night and day, Anubis Airline's airplanes are designed to offer safe transportation for vampires and their coffins.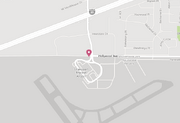 While Anubis Air Airlines has established several terminals throughout the world, their primary headquarters is located at Shreveport Regional Airport: 5103 Hollywood Ave, Shreveport, Louisiana 71109.
Amenities
Edit
Sleeping vampires receive the ultimate comfort as all planes are completely outfitted to accommodate their needs through the use of streamlined and extremely high-tech coffins that ensure the vampire's safe passage throughout their flight.
Like standard non-vampire airplanes, some airplanes at Anubis Air have a few rows of seats for occasional human passengers, and they even provide flight attendants to ensure their passengers' comfort.
Most vampires are willing to pay extra for the additional security Anubis offers, due to several "incidents" that have occurred on board commercial flights, Security offered most often includes safe transportation of the coffin from the airplane to its final destination, once they are back on the ground.
Although security is tight, it is not infallible, however, as Sookie Stackhouse discovers when she is accosted while waiting for Bill Compton's coffin when it was stolen in Mississippi.
Background
Edit
Anubis Air Airlines were established in 2006, shortly after the Great Revelation, as a safe means to transport vampires.
Although their flight was delayed for two hours, Bill, Sookie, and Jessica Hamby utilize the services of Anubis Airlines when they take a flight to Dallas, Texas. It is upon their arrival they are ambushed by members of The Fellowship of the Sun. ("Shake and Fingerpop")