Arlene Fowler Bellefleur
Talk

1
1,129pages on
this wiki
Arlene Fowler Bellefleur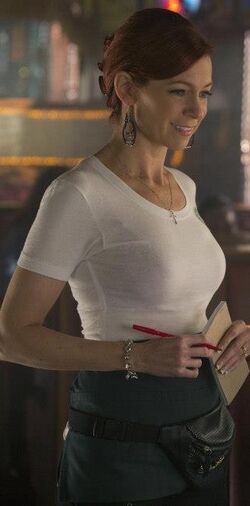 Mentioned in
{{{Mentioned}}}
Date of birth
{{{Birth}}}
Date of death
{{{Death}}}
Powers
Mediumship
Involved With Spirits
[[:Category:{{{Images}}}|Images]]
"Someday, if I ever find another man, I want you to look inside his head and tell me everything that's in there."
―Arlene to Sookie
Arlene Fowler Bellefleuris a major character in the first, second, third, fourth, fifth, and sixth seasons of True Blood. She is played by starring cast member Carrie Preston. She is a waitress at Merlotte's and friend to Sookie Stackhouse. Married 5 times, she has 3 children, Coby, Lisa and Mikey. As of season 4, she is married to Terry Bellefleur ("She's Not There") and has taken his surname as her married name ("Me and the Devil"). Arlene is also a medium being commonly involved with spirits, seeing Rene's ghost, Zaafira, Mavis, and also the source of Mikey's mediumship.
Personality
Edit
Arlene is a sassy Southern woman who sees herself as young and spunky. She says what she wants, sometimes disregarding others feelings. She holds herself in high regard, thinking that she is attractive and all men want her.
Arlene is a fair-weather friend. Sookie finds herself working Arlene's shifts when she needs to leave early and takes care of her kids while she is at dates. Yet values their one sided friendship.
Arlene also proves to be a caring and loving individual. She is fiercely protective of her children, refusing to leave her burning house until she found them.
Arlene: Shit, I'm pregnant again.
Lafayette: Hey, you forgot your rings.
Arlene: Fuck my rings.("

New World in My View

")
Arlene: I want you to promise me somethin', okay?
Sookie: Okay.
Arlene: Someday, if I ever find another man, I want you to look inside his head and tell me everything that's in there.
Sookie: Uh... Arlene, it doesn't really work that way.
Arlene: Promise me, okay? Cause I have the worst taste in men.("

You'll Be the Death of Me

")
Arlene: "You two wanna go trick or treating at the trailer park again getting bags of empty Coors cans and food stamps or do you want candy? Your choice."
Arlene: "No darlin' we're white. He's dead." [to Coby]("

Sparks Fly Out

")
Arlene: "Vampire bar wasn't all it was made out to be. I hear there are a lot of freaks and people from Arkansas." [to Sookie when talking about Fangtasia] ("

Sparks Fly Out

")
Arlene: "Suppose she gets pregnant. How in the world can she nurse a baby with fangs?" ("

Burning House of Love

")
Arlene: "And loyalty. You gotta know that person is going to be there for you through thick and thin. 'Cause you never know when some Iraqi ghost lady is gonna curse your entire family." [to Andy Bellefleur on relationships] ("

Sunset

")
Appearances
Edit
| | |
| --- | --- |
| | There is an image gallery for |