Bad Blood
Talk

0
1,361pages on
this wiki
"Bad Blood" is the first episode of Season 3 of the HBO original series True Blood, and the series' twenty-fifth episode overall.
Sookie Stackhouse enlists the help of Eric Northman in her search for the missing Bill Compton. Sam Merlotte begins his search for his birth parents. Tara Thornton falls into despair following "Eggs" Talley's death and attempts suicide. Lafayette Reynolds invites Tara's mother, Lettie Mae Daniels to help watch over her while Jason Stackhouse and Andy Bellefleur back what she has done. Eric is paid a surprise visit by the Vampire Queen. Bill frees himself from his captors but finds himself a long way from Bon Temps, in Mississippi, and in unfriendly territory.

"I'm sorry you fell in love with a serial killer, alright,
but, honestly, who here hasn't?"
― Arlene Fowler (Bellefleur)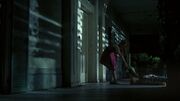 Sookie is distraught over Bill's kidnapping from Maison de Paris and even more distraught when no one will help her find him. She turns to Eric for help in finding Bill. Eric is busy in Fangtasia's dungeon with Yvetta (having been having sex with her for six hours). Andy urges Jason to stay the course after killing Eggs. Sam reconnects with his past; continuing to search for the Mickens.
While on the road, Sam hears a knock on the hotel room door. As he opens it; he sees a naked Bill standing there, and invites him inside. the two begin to have a very heated moment, yet just before they kiss; Sam is awakened from a phone call. He learns that the Mickens were evicted from their home three years ago, but their son is a local. He visits, but Tommy feigns ignorance. Sam then follows him to a house, and stands outside.
Andy tells Jason to continue behaving his normal, old self; which means picking up chicks. Later in the episode Jason does just that, bringing two girls back to his house. Every time he looks at them however; he pictures them with bullet holes in their heads, which means he can't perform. The girls leave in a rush after Jason explains that "it's not you, it's just I keep picturing you both with big 'ol bullet holes in your foreheads".
Jessica bit a guy at a truck stop, and is now having do deal with the after effects; where do you hide a body when you accidentally kill someone? She tried to save the guy by giving him her blood, but it was too late- so his body begins to leave a horrific stench in the Compton house.
Tara is beyond upset about Eggs. Lafayette takes her to Sookie's house; but when Tara finds out that Sookie had helped Eggs try to recover his memories of killing people for Maryann, she attacks Sookie. Lafayette brings Tara back to his house, and leaves her with her mother. Tara decides to take a shower, and her mother lets her because she's too distracted by the Reverend. Lafayette comes home and is banging on the bathroom door while Tara tries to swallow all the pills she can find. He is able to reach her in time.
While working, Lafayette gets a visit from Pam who tells him he needs to offload all of the V he is currently holding. He tells her there's no way he can find buyers for all his product, she tells him to figure it out after threatening him; then quickly leaves.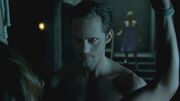 Pam also pays a visit to Sookie's home; while there, she gets a call from Eric and leaves. Sookie realizes that perhaps Bill is trying to reach Jessica, and pays her a visit.
Meanwhile, Bill is seen emerging from the ground. He is in need for human blood and finds an old lady named Olivia alone in her home and is invited inside. He feeds from her; then quickly leaves her unscathed- even leaving her some cash, saying it is from her son Stanley.
Sookie and Jessica find the wreckage and the body of one of Bill's abductors. The man has a mysterious tattoo. Jessica looks it up on her phone and sees it is connected to something called Operation Werewolf.
Cut to Bill in the woods, who suddenly finds himself surrounded by four wolves. He says "I should warn you, I fed." His fangs come out, and the episode ends.

Memorable Quotes
Edit
References
Edit
External Links
Edit
Television without Pity's 20-page recap