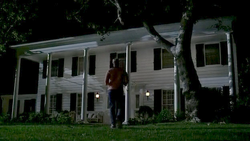 The Bellefleur Family, commonly referred to as The Bellefleurs, are a notable family on the HBO original series True Blood. Located in the town of Bon Temps, Louisiana, the Bellefleur Family first debuted in the series' first season, and its members have played recurring roles throughout the series' second, third, fourth, fifth, sixth, and seventh seasons. The most prominent descendants of the Bellefleur family included Andy Bellefleur, Adilyn Bellefleur, Portia Bellefleur, and Terry Bellefleur.
Family History
Edit
Sarah Compton's daughter, Elizabeth Harris, married James Bellefleur, thus linking the Compton family to the Bellefleurs.
It is mentioned by Terry that all female Bellefleurs become debutantes at the age of 16. ("I Don't Wanna Know")
The Bellefleurs appear to be a wealthy family. It has even been claimed that at one point in the family's history they owned most of Bon Temps, including the area where Merlotte's now stands ("You'll Be the Death of Me"). They are also an old family, who have been living in Bon Temps for many years. This is shown when Bill and Caroline Bellefleur recount the Bellefleur family tree, discovering how the Compton and Bellefleur families link through Bill's daughter, Sarah Compton, making the living Bellefleurs Bill's descendents. ("I'm Alive and on Fire")
Living Members of the Bellefleur Family
Edit
Bellefleur Family Tree
Edit
The Bellefleur Family photo album
Edit
Ad blocker interference detected!
Wikia is a free-to-use site that makes money from advertising. We have a modified experience for viewers using ad blockers

Wikia is not accessible if you've made further modifications. Remove the custom ad blocker rule(s) and the page will load as expected.