[[:Category:{{{Images}}}|Images]]
Big Patty's Pie House is a small hometown diner on the HBO original series True Blood. Located south of Interstate

, near Bunkie, Louisiana, Big Patty's Pie House is known for its large variety of delicious pies and for its most well known employee, Cindy Marshall, the murdered sister of Drew Marshall. Another waitress, Harley, also plays a predominate role at Big Patty's, although she isn't quite as well known as is Cindy Marshall.
Notable Features
Edit
Notable Employees
Edit
Notable Patrons
Edit
Filming Locations
Edit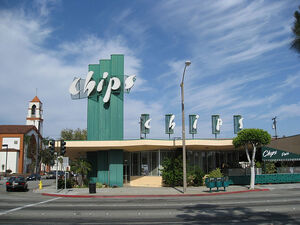 Scenes at Big Patty's Pie House were filmed in "Chip's Restaurant", located at "11908 Hawthorne Boulevard", in the town of Hawthorne, California. The restaurant is also located only a few blocks away from another
True Blood
hallmark, the Hawthorne Jail, which is the location used to film the
Bon Temps Police Station
in the adjacent town of
Bon Temps, Louisiana
.
Ad blocker interference detected!
Wikia is a free-to-use site that makes money from advertising. We have a modified experience for viewers using ad blockers

Wikia is not accessible if you've made further modifications. Remove the custom ad blocker rule(s) and the page will load as expected.