Mentioned in
{{{Mentioned}}}
Date of birth
June 21, 1967
Date of death
{{{dateofdeath}}}
Place of birth
Macon, Georgia, USA
Place of death
{{{deathplace}}}
[[:Category:{{{Images}}}|Images]]
Carrie Preston, born June 21, 1967 in Macon, Georgia, is an American actress who plays the role of Arlene Fowler Bellefleur on the HBO original series True Blood. Making her debut in the series' premiere episode, "Strange Love", in the series' first season, Carrie plays the role of the current owner of Bellefleur's Bar and Grill, former home of Merlotte's. Friend to series' protagonist Sookie Stackhouse, and having been married five times, Carrie has three children, Coby, Lisa and Mikey. Married to Terry Bellefleur in the series' fourth season, and taking his surname as her married name, her marriage was abruptly halted due to Terry's untimely death in the series' sixth season. Playing a recurring role through the series' first, second, third, fourth, fifth, sixth, and seventh seasons, Carrie is a guest starring actress who was last seen in the series' finale episode, "Thank You", in the series' seventh, and final, season.
Biography
Edit
Born and raised in Macon, Georgia, to an artist and art therapist mother and a geo-technical engineer father, a young Carrie Preston discovered her true calling in performing arts. At the age of 12, she became the impresario of her own front-yard theater company as producer, writer, casting director, costumer, director and actress. Preston later obtained a bachelor's degree from the University of Evansville followed with an acting diploma from the prestigious performing arts school Juilliard School. After attending Juilliard, Preston went on to work in performing arts.
Preston has worked with her husband, actor Michael Emerson, on a number of projects. Emerson plays Ben Linus on television's Lost, and Preston was a guest star in episode 20 of season 3, The Man Behind the Curtain. She played Ben's mother Emily for several flashback scenes, though she and Emerson never appeared in any scenes together. Emerson and Preston were both featured in the 2004 comedy Straight-Jacket, and the 2008 feature film Ready? OK!.
Preston is co-owner of the production company Daisy 3 Pictures with James Vasquez and Mark Holmes.
Since 2008, Preston has appeared in the ongoing HBO series True Blood as Arlene Fowler.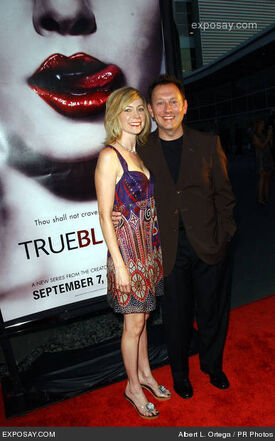 Filmography
Edit
My Best Friend's Wedding (as Mandy), 1997
Mercury Rising (as Emily), 1998
Straight-Jacket (as Sally), 2004
The Stepford Wives (as Barbara), 2004
Transamerica (as Sydney), 2005
Lovely By Surprise (as Marian), 2007
Nothing is Private (as Mrs. Vuoso), 2007
Ready? OK! (as Andy Dowd), 2008
Vicky Cristina Barcelona, 2008
Duplicity, 2009
Television
Edit
Sex and the City (in episode "The Chicken Dance" as Madeline Dunn), 1999
Emeril (as B.D. Benson), 2001
Wonderfalls (as Sister Katrina in episode "Wound-up Penguin"), 2004
Numb3rs (in episode "Dirty Bomb" as Vicky Sites), 2005
The Inside (in episode "Pre-Filer" as Kelly Comack), 2005
Arrested Development (in episode "Fakin' It" as Jan Eagleman), 2006
Lost (in episode "The Man Behind the Curtain" as Emily), 2007
Desperate Housewives (in episode "You Can't Judge A Book By Its Cover" as Lucy), 2007
True Blood (as Arlene Fowler), 2008-2014
The Tempest (as Miranda), Broadway, 1995
Antony and Cleopatra (as Octavius Caesar), Joseph Papp Public Theater, 1997
Freedomland (as Polly), Playwrights Horizons, 1998
Straight Jacket (as Sally), Playhouse 91, 2000
She Stoops to Conquer (as Kate Hardcastle), Center Stage, 2000
Who's Afraid of Virginia Woolf? (as Honey), Guthrie Theater, 2001
Chaucer in Rome (as Sarah), Mitzi E. Newhouse Theater, 2001
Boys and Girls (as Shelly), Duke on 42nd Street, 2002
No Foreigners Beyond This Point (as Paula Wheaton), Center Stage, 2002
The Rivals (as Julia), Broadway, 2004-2005
Hamlet (as Ophelia), McCarter Theatre Center, Princeton, New Jersey, 2005
Cycling Past the Matterhorn (as Amy), Clurman Theatre, 2005
Festen (as Mette), Music Box Theatre (Broadway), 2006
Esther Demsac (as the reluctant nanny), NY Theatre Workshop's 4th Street Theatre, 2008
Likeness, Primary Stages Theater (307 W. 38th Street), 2008
Directing
Edit
29th and Gay, 2005
Feet of Clay, short film written by David Caudle
Girl Talk, screenplay by actress Kellie Overbey, 2008
Producing
Edit
29th and Gay, 2005
Feet of Clay, short film written by David Caudle
Ready? OK!, 2008
Trading Cards
Edit
Appearances
Edit
Ad blocker interference detected!
Wikia is a free-to-use site that makes money from advertising. We have a modified experience for viewers using ad blockers

Wikia is not accessible if you've made further modifications. Remove the custom ad blocker rule(s) and the page will load as expected.