Registered by
AnneMarie Hogan
Technical Admin
Donna Stalworth
Alexa Rank

n/a
(Global 09/2014)
[[:Category:{{{Images}}}|Images]]
Chishio.jp was one of seventeen official companion websites that were created to complement the content found on the HBO original series True Blood.
The very first website as part of an elaborate marketing campaign by parent company HBO, Chishio.jp was a mysterious website that allowed the viewer to access enlarged pictures of the four letters featured on its mainpage.
Unfortunately, but potentially on purpose, access to the images eventually led the viewer to an error page reading "403 Forbidden - Request forbidden by administrative rules." The site was created on a Japanese server, which only added to its mystique.
Version 1: 2008 - 2008
Edit
Created around the beginning of 2008, shortly before the series' first season, the first version of the site possessed a mysterious air. Access was originally discovered via mailers that were sent to various news bloggers and other random individuals who responded to a pop-up instant message sent through "official channels".
The site's background consists of its signature red seal, appearing translucently atop a gray to white gradient scheme that utilized the full length of the page. The four letters that were randomly sent to the aforementioned respondents are now showcased on this mysterious website, illuminated white atop the the mysterious gradient and even more mysterious red seal. From left to right, the letters are written in four different archaic languages: Akkadian Cuniform, Hieratic, Punic and Ugaritic.
The use of ancient and archaic languages foreshadow the ancient beings that are trying to make their presence know.
A mysterious "tb" appears at the bottom of the page. This alluded to, and foreshadowed, the upcoming HBO original series True Blood.
There are no news articles, nor is there any other content, or anything else to do on the site.
Version 2: 2008 - 2012
Edit
Only two months after its creation, the site was used only as a redirect to the BloodCopy.com website.
Invitation
Edit
Similar to its successor, RevenantOnes.com, access to the site was made through an invitation written one of the four languages listed above.
Once translated the invitation would read as:
Thank You For Answering The Call And Joining Us.
But What It Means To Us Is Almost Beyond Words.
Tru Blood can sustain us. The Bonds of Blood Will No Longer Hold Us Hostage.
A number of invitations made their way into human hands, and some joined the debate. Other means of accessing the site were found in various newspapers as classified ads written in the same ancient language.
The Mailer
Edit
In June of 2008, recipients of a mysterious mailer received a padded white envelope with Stamps.com tb branded stamps. On the inside was a small vial filled with a mysterious red substance, wrapped with a small flier, inside of a larger vial.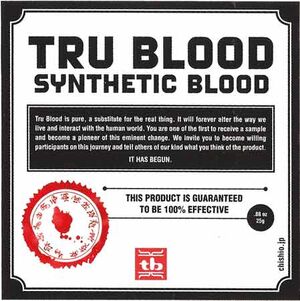 The text on the sheet reads:
"Tru Blood is pure, a synthetic substitute for the real thing. It will forever alter the way we live and interact with the human world. You are one of the first to recieve a sample and become a pioneer of this eminent change. We invite you to become willing participants on this journey and tell others of our kind what you think of the product. IT HAS BEGUN."
This product is guaranteed to be 100% effective.
The vial of "blood" contains, in fine print on the side of the smaller tube, a standard ingredient list:
Ingredients: cane sugar, water, malic acid, citric acid, flavors and colors, etc.
Made by Squire Boone Villiage, New Albany IN
Hidden in the Coding
Edit
The following was a valuable key in figuring out the purpose of this bizarre website. Original companion websites possessed a hidden string of text, visable only to those who examined the website's internal coding, that hints that the site is part of a new and upcoming show on premium channel HBO. The show, True Blood, hints at a "Pre-Premiere", which also foreshadows and alludes to a new, upcoming series.
<!--
s.pageName="HBO: True Blood: Pre-Premiere: Chishio"
s.server="hbo.com"
s.channel=""
s.pageType=""
s.prop1="HBO" // channel
s.prop2="Original Series" // category
s.prop3="True Blood" // show
s.prop4="Chishio" // content
s.prop5="" // subcontent
s.prop6="" // season
s.prop7="" // episode
s.prop8="" // actor
s.prop9="" // special
s.prop10=""
s.prop11=""
s.prop12=""
s.prop13=""
s.prop14=""
s.prop15=""
/* E-commerce Variables */
s.campaign=""
s.state=""
s.zip=""
s.events=""
s.products=""
s.purchaseID=""
s.eVar12=""
.eVar13=""
s.eVar14=""
s.hier1="HBO|Original Series|True Blood|Pre-Premiere|Chishio"
s.hier2="HBO Global|" + s.hier1;
-->
Ad blocker interference detected!
Wikia is a free-to-use site that makes money from advertising. We have a modified experience for viewers using ad blockers

Wikia is not accessible if you've made further modifications. Remove the custom ad blocker rule(s) and the page will load as expected.