Chow Lin
Talk

0
1,069pages on
this wiki
Chow Lin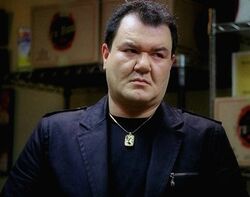 Appeared in
{{{Appearances}}}
Mentioned in
{{{Mentioned}}}
Date of birth
{{{Birth}}}
Date of death
{{{Death}}}
Family members
{{{Family}}}
[[:Category:{{{Images}}}|Images]]
Chow Lin (born 1860 and made in 1901) is a vampire. He was Longshadow's successor as business partner with Pam and Eric.
Biography
Edit
Background
Edit
Chow lived a solitary life in a small village in Central China, working as a carpenter. The only joy in his life came from watching the widow next door, for whom he pined for over ten interminable years. When a vampire attacked her on a lonely street, Chow offered his life for hers and the vampire accepted. After this brave forfeit, Chow thought he had finally won the woman's affection, but instead she denied him, leaving Chow to an eternity of loneliness.
Chow joined Pam and Eric's task of retrieving Bill so he could be judged by the Tribunal. Like Bill, Chow is also an aficionado of Wii golf. ("Plaisir D'Amour")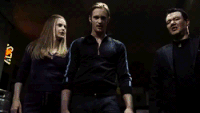 Chow was rarely seen in Season 2. He did, however, appear at Fangtasia and fed from Lafayette. ("Keep This Party Going")
Powers & Abilities
Edit
Chow has the common powers and weaknesses of a vampire such as superhuman strength, speed, healing. Due to his age, he is much stronger and faster than younger vampires such as Jessica but far weaker than his superiors such as Bill and Eric. His weaknesses include a stake to the heart, silver and fire. Sunlight will slowly kill a vampire of his age.