Cold Ground
Talk

0
1,358pages on
this wiki
"Cold Ground" is the sixth episode of Season 1 of the HBO original series True Blood, and the series' sixth episode overall.

Numbed by tragedy, Sookie looks for refuge from the cacophony of her friends' and neighbors' inner voices. After lashing out at his sister and decking Andy, Jason wrestles with withdrawal symptoms from his V juice habit. Tara resists the overtures of her alcoholic mother Lettie Mae, who's trying to rid herself of a demon and needs her daughter's help (and money). Sam and Tara make a connection in their mutual search for "something real."

"Give us a little girl time...
Come on Lafayette!"
― Tara Thornton

Sookie stands in shock, as her Gran lies dead on the kitchen floor, covered in her own blood. Bill comes up behind her and tries to calm her. As he holds onto her, Sam enters the front of the house. Bill grabs him by the throat, while Sam states he was making sure Sookie got home safe and the door was open. He sees the blood and asks what happened. Sam puts a blanket around Sookie's shoulders and suggests she go upstairs to lie down.
Sookie hears Andy with the other police in the kitchen. They are disturbed and say the Stackhouse kids, while crazy, didn't deserve this. Mike Spencer the coroner thinks they have a serial killer on their hands.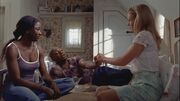 The next day, Sookie holds a wake for Adele in the house. She loses it when Maxine Fortenberry attempts to make room in the fridge, by moving the last pie Adele made. Tara and Lafayette take Sookie upstairs. They tell her not to worry about entertaining the people downstairs and to just feel whatever she's feeling. Sookie confesses that she doesn't think she is feeling anything at all.
Jason, oblivious to his Gran's death, shows up at work high on V. He learns the news from Hoyt and René and races over to the wake. He storms into Sookie's room and smacks her square on the face, screaming that it was her fault that gran was killed. Tara pushes Jason out, telling him she doesn't even know who he is anymore. Tara tries to comfort Sookie, but the damage is already done. Outside, Andy confronts Jason and practically accuses him of murdering Adele. Jason shoves Andy down as though he weighed nothing.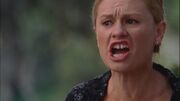 Adele's funeral the following day is more or less a disaster. Jason invites his and Sookie's estranged Uncle Bartlett, which aggravates Sookie. Tara's mother Lettie Mae shows up and makes a speech about a woman she barely knew. Jason continues to struggle with his V addiction and Sookie makes a fool of herself when she cannot block out the townspeople's thoughts and tells them all to "Shut the fuck up!"
When the funeral is over, Lettie Mae approaches Tara and tells her that she has a demon inside of her that makes her drink. She says she needs money for an exorcism. Tara thinks this is ridiculous and storms off.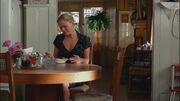 Sam takes Sookie home where she tells him that she needs to be alone, Sam doesn't think so and neither does Tara. Once alone, Sookie takes the pie out of the fridge. She finally lets out her grief as she eats it, sobbing over every bite. Tara takes Sam back to her hotel room and they have sex. Afterward, Tara starts to feel conflicted about her mother's problem and leaves Sam alone in the room.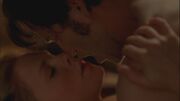 Sookie races to Bill's house. Bill hears her footsteps and sweeps her up. They finally make love. When Bill's fangs extend he tries to hide them, but Sookie tells him she wants him to do it. Bill buries his teeth into her neck and starts to drink.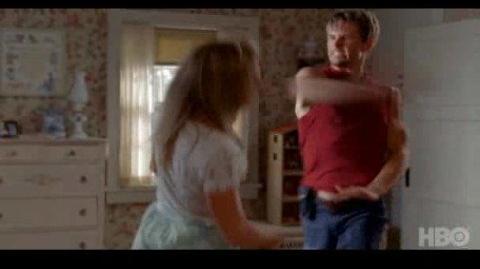 Memorable Quotes
Edit
Memorable Dialogue
Edit
Jason Stackhouse: "Sookie, please. I mean, we're all we've got."
Sookie Stackhouse: "We've got nothing."
Tara Thornton: "Do you think they're capable of lovin' a person?"
Lafayette: "Who knows what they're capable of."

References
Edit
External Links
Edit
Television without Pity's 21-page recap