---
This article is not part of the True Blood Television Series.


This article covers a subject or facts that are not part of the True Blood television show, but instead are a part of the True Blood Universe found outside of the series: either found online, in comics, on Youtube, on DVD Extras, etc.
Comic Book Series - True Blood 1 refers to the first issue of the first story arc of the comic book series designed to complement, and are based on, the HBO original series True Blood. Published by the accomplished IDW Publishing, True Blood 1 is the first comic book within the True Blood comic book series.
Alan Ball's hit HBO series, the sensually sizzling story of the lives and loves of vampires, mind readers, and all manner of creature, comes to IDW Publishing! Blood and sex mix on a hot rainy night at Merlotte's, when Sookie and her friends are trapped by a vengeful spirit who feeds on shame. People die and dirty secrets are revealed as Sookie, Bill, Eric, Sam, Tara, Jason, and Lafayette are all coerced to dig deep and tell painful memories from their past-those things we all have locked within us that we never tell another living soul! Bon Temps, Louisiana has never been stranger, or more twisted, in a story co-plotted by True Blood series creator Alan Ball, with a script by David Tischman and Mariah Huehner, and lush art by David Messina.
True Blood Comic Book #1 begins at Merlotte's on a rainy day. Sookie is outside bringing garbage to the dumpster, when she hears someone outside. Realizing it was merely Sam, she returns inside the bar. Eric Northman arrives and Sookie asks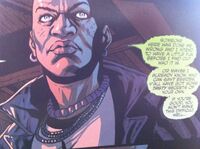 if it was him that she heard outside; however he denies it. He tells Sookie he needs to speak with her, but before they can speak a spooky man is asking for service in the corner of the bar. When Sookie leaves Eric to tend to the customer, she is shocked to see his guest has a female corpse propped up in her bench seat across from him. It's quickly realized he is only masked as a human; he grows large tentacles. Sam recognizes the species but calls them "Choctaws Indians', yet Eric quickly calls the species a "
Imp Shaloop
". The
Imp however prefers to be called Ted. Jason and his date are at Merlotte's, and as Jason tries to rid Ted, the Imp grabs Jason's date with his tentacles. Everyone soon realizes his powers are feeding people on their own shame. After embarrassing Jason's date, he squeezes her to death with his huge tentacles. Each victim he grabs, he squeezes them so badly, the life seems to literally drain from them; leaving them ashy and gray. Bills shows up at Merlotte's and tries to defeat the Imp, however he gets within the grasp of Ted and soon starts to be squeezed as well. Eric will not help, knowing he cannot defeat the Imp Shaloop. Bill is on the verge of death, Sookie screams....and the rest is to be continued in Series 2 of the True Blood Comics.
Rated 3 & 1/2 Fangs
I was highly impressed with the first comic in the True Blood Comic Series. The characters are so well written, I can visualize them perfectly in my mind. The story was very interesting (the Imp). There was also an exclusive bonus poster (see below) by artist David Messina; It's so amazing I will be getting it framed. Being off season, the comics fill my True blood void. The art work is beautiful and I highly recommend any Trubie buying these!
Exclusive Bonus Poster
Edit
Story by/Written by

Art by

David Messina (Pencil's, Inks and Cover by David Messina as well)

Ink's by

Lettering by

Colors by

Edits by
Variant Covers
Edit
Regular Issue
Edit
Retailer Exclusive
Edit
Comic-Con Exclusive
Edit
Legacy Edition
Edit
Comic Book Preview
Edit
Ad blocker interference detected!
Wikia is a free-to-use site that makes money from advertising. We have a modified experience for viewers using ad blockers

Wikia is not accessible if you've made further modifications. Remove the custom ad blocker rule(s) and the page will load as expected.