Dallas, Texas
Talk

0
1,433pages on
this wiki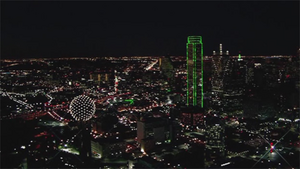 Dallas, with a population of 1.2 million,[1] is the third largest city in Texas and the eighth largest in the United States. The city is the primary economic center of the twelve county Dallas–Fort Worth–Arlington metropolitan area that, according to the March 2009 U.S. Census Bureau release, had a population of 6.3 million as of July 2008.[2] The metropolitan area is the fourth largest metropolitan area in the United States.
Dallas is described as "The most vampire-friendly destination in the great state of Texas." It falls within Area 9, formerly under the jurisdiction of the vampire sheriff Godric, and currently presided over a new vampire sheriff (possibly Isabel Beaumont).
Before Texas was claimed in the 18th century as a part of the Viceroyalty of New Spain by the Spanish Empire, the Dallas area was inhabited by the Caddo Native Americans. Later, France also claimed the area, but in 1819 the Adams-Onís Treaty made the Red River the northern boundary of New Spain, officially placing Dallas well within Spanish territory.[3] The area remained under Spanish rule until 1821, when Mexico declared independence from Spain and the area became part of the Mexican state of Coahuila y Tejas. In 1836, the Republic of Texas broke off from Mexico to become an independent nation.[4] In 1839, four years into the Republic's existence, Warren Angus Ferris surveyed the area around present-day Dallas. Two years later, John Neely Bryan established a permanent settlement that later became the city of Dallas. The Republic of Texas was then annexed by the United States in 1845 and Dallas County was established the following year. It is uncertain whether the city was named after George Mifflin Dallas, the U.S. Vice President under James Knox Polk.
KTVT and KXAS and WFAA and KDAF are among the TV stations in Dallas Texas.
Locations
Edit
References
Edit