Everything Is Broken
Talk

1
1,361pages on
this wiki
"Everything Is Broken" is the ninth episode of Season 3 of the HBO original series True Blood, and the series' thirty-third episode overall.

With the ratification of the Vampire Rights Amendment at hand, Nan Flanagan detours to Fangtasia to confront Eric about the Magister's disappearance. A grief-stricken Russell vows revenge against his foes, vampire and human. Awaking from a slumber, Bill uncovers the truth about Sookie's true identity. Jason gets unexpected help as he goes up against Felton (James Harvey Ward) and Calvin. Sam is distressed by Tommy's attitude; Tara encounters a new ally and an old tormentor; Hadley introduces Sookie to a new family member; Arlene despairs about her future; Hoyt confronts his true feelings.

"We lived through so much for so long.
It can't end this quickly."
― Debbie Pelt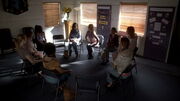 Sookie and Bill appear to be back together, speaking light-heartedly about the strange nature of their relationship. Sookie has obviously become desensitized by recent events, she barely reacts when she finds a dead body in her house, and is ready with a plan to dispose of it. She points this out in herself when she tells Bill she feels like she's half-way on being a vampire. Sookie confronts Bill about the file he has on her, and Bill tells her he was trying to figure out why Eric has shown such interest in her.
Jason, upon returning from his confrontation with Calvin, finds Felton interrogating Crystal - who acts like she's been kidnapped. Crystal unnecessarily tells Felton Jason raped her, which distracts Jason and allows Felton to get the upper hand and disarm Jason. She then hits him in the back of the head with the butt of Jason's shotgun, and while searching him she finds a bag of "V" vials. Crystal ties Felton up.
Jason drives the three of them to a secluded spot, and after dropping off the unconscious Felton, he makes an anonymous call to the sheriff's department giving them his whereabouts and tipping them about the V. Later we find out that Deputy Ellis was the one to respond to the tip-off, and Felton has beaten him half-to-death and escaped.
Nan Flanagan, alongside a group of armed "V-Feds", detours to Fangtasia to confront Eric about the Magister's disappearance. A hearing is held in which Eric tells his side of the story to The Authority via webcam, after which Eric and Pam are put on house-arrest. Eric tells Pam that he will not let her take any blame for what has happened, and if the decision goes badly for him, she is ready to become a maker and should create a new vampire.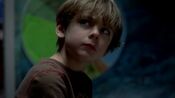 Tara decides to attend a support group meeting for victims of violent crimes, and runs into Merlotte's newest waitress Holly there, where a bond begins to form between them. Sookie meets Hadley at the aquarium where she is introduced to Hadley's son Hunter. Hadley begs Sookie to find out if Hunter is telepathic, which she does after the two have a brief telepathic conversation.
Tara and Holly walk into Merlotte's together seemingly new friends, Arlene has a verbal confrontation with Tommy, reducing her to tears. Holly consoles her in Sam's office, and as with Tara, the two have a moment of bonding.
Bill has a dream-state encounter with Claudine - apparently as yet another result of drinking such a large quantity of Sookie's blood. Bill tries to convince Claudine that his intentions with Sookie are pure, and seemingly learns the origin of Sookie's powers.
Hoyt shows up at Merlotte's with Summer and the couple are waited on by a visibly upset Jessica. Hoyt tells Jessica he still has feelings for her and doesn't like Summer, Jessica becomes emotional about the situation, and Tommy only sees the end of the conversation which adds to his hatred of Hoyt.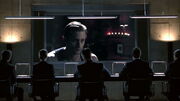 Jason gets unexpected help when Calvin shows up at Merlotte's looking for Crystal in the form of Sam, who has been pushed one too many times and snaps on Calvin - beating him bloody. Jesus arranges a discrete ER trip for Calvin, and as they drive away, Franklin shows up out of nowhere & snatches Tara up.
Jason appears wielding a shotgun and orders Franklin away from Tara; Franklin arrogantly tells Jason how futile shooting him would be, and Jason fires - destroying Franklin once-and-for-all with wood-stake bullets.
A grief-stricken, insanely enraged Russell vows revenge against all who stand in the way of his revenge on Eric, whilst holding Talbot's remains in a crystal jar. At the end of the episode he takes over a televised news broadcast, slaying the TBBN anchor Jerry McCafferty, and effectively destroying the "non-violent" foundation that the AVL has laid in order to lobby for the ratification of the Vampire Rights Amendment.
The king states explicitly, and in no uncertain terms that humans should be afraid of vampires, that vampires don't consider humans their equal, and that all vampires want to do is eat humans.
"Do not turn off the camera! You have seen how quickly I can kill. Ladies and gentlemen, my name is Russell Edgington and I have been a vampire for nearly 3,000 years. Now the American Vampire League wishes to perpetrate the notion that we are just like you. And I suppose in a few small ways we are. We're narcissists, we care only about getting what we want, no matter what it costs, just like you. Global warming, perpetual war, toxic waste, child labor, torture, genocide... that's a small price to pay for your SUVs and your flat screen TVs, your blood diamonds, your designer jeans, your absurd garish McMansions. Futile symbols of permanence to quell your quivering, spineless souls. But no, in the end. We are nothing like you. We are immortal. Because we drink the true blood, blood that is living, organic and human. And that is the truth the AVL wishes to conceal from you. Because let's face it, eating people is a tough sell these days. So they put on their friendly faces to pass their beloved VRA but make no mistake, mine is the true face of vampires! Why would we seek equal rights? You are not our equals. We will eat you. After we eat your children. Now time for the weather. Tiffany?"
―Russell Edgington to The World
Memorable Quotes
Edit
Memorable Dialogue
Edit
Pamela Swynford de Beaufort: "We've lived through so much for so long. It can't end this quickly."
Eric Northman: "Everything ends...Even the immortals."

References
Edit
External Links
Edit
Television without Pity's 19-page recap