Godric
Talk

3
1,090pages on
this wiki
Godric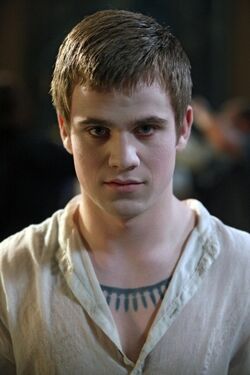 Age
2,000+ (made Vampire at 16 years old)
Date of birth
1st Century BC
[[:Category:{{{Images}}}|Images]]
"My blood is in you. I'm with you always."
―Godric
Godric is a recurring character in the second, third, fourth and fifth seasons. He is portrayed by guest star Allan Hyde and debuts in "Never Let Me Go".
Godric was the vampire sheriff of Area 9 in Dallas, Texas. An ancient vampire over 2,000 years-old, Godric suffered much cruelty at the hands of the human race and his own maker which instilled in him a great amount of hatred and resentment. So much so, that he spent most of his existence hunting humans for sport and passing on his disdain for the living to his progenies, Eric and Nora. However, after a millennia, Godric realized that all the senseless killing had only left him feeling detached and empty, causing him to commit suicide.
History
Personality and traits
Godric's personality as a human is completely unknown. However, for the first 1,000 years he lived as a vampire, he was a violent, bloodthirsty savage with no regard for human life. He was also a believer in moral nihilism, as he taught his progeny that there was no right or wrong, only survival, or death. However, he abandoned this belief in later life, and as centuries went by, Godric began to sympathize with humanity and other forms of life. He came to realize that the human race's fear of vampires was well founded, and that he had contributed to it.
Ultimately, Godric committed suicide in the hope that his sacrifice would instill some empathy in the radical members of both the human and vampire communities. Despite the great degree of compassion he exhibited in later life, Godric was still capable of acts of extreme brutality when properly motivated, such as the snapping of Gabe's neck after his attempted rape of Sookie.
Powers and abilities
Godric possessed the common powers and weaknesses of a Vampire. Due to his advanced age, he was one of the most powerful vampires in the new world. He also needed very little blood to exist, but was very vulnerable to sunlight. In addition to his vampiric powers, Godric was also a skilled linguist. His native language, Gaulish, was extinct by the 6th century. However, Godric was also fluent in English, French, Swedish and German.
Etymology
Godric is an Old English name derived from the root words "God" - "ric" which means "The power of God." "Ric" being "Power/Rule."
Appearances
Season two appearances
"Nothing but the Blood"
"Keep This Party Going"
"Scratches"
"Shake and Fingerpop"
"

Never Let Me Go

"
"Hard-Hearted Hannah"
"

Release Me

"
"

Timebomb

"
"

I Will Rise Up

"
"New World in My View"
"Frenzy"
"Beyond Here Lies Nothin'"
Season three appearances
"Bad Blood"
"

Beautifully Broken

"
"It Hurts Me Too"
"9 Crimes"
"Trouble"
"I Got a Right to Sing the Blues"
"Hitting the Ground"
"Night on the Sun"
"Everything Is Broken"
"I Smell a Rat"
"Fresh Blood"
"

Evil is Going On

"
Season four appearances
"She's Not There"
"You Smell Like Dinner"
"If You Love Me, Why Am I Dyin'?"
"I'm Alive and on Fire"
"

Me and the Devil

"
"I Wish I Was the Moon"
"Cold Grey Light of Dawn"
"Spellbound"
"Let's Get Out of Here"
"Burning Down the House"
"Soul of Fire"
"And When I Die"
Season five appearances
"Turn! Turn! Turn!"
"Authority Always Wins"
"Whatever I Am, You Made Me"
"We'll Meet Again"
"Let's Boot and Rally"
"Hopeless"
"

In the Beginning

"
"Somebody That I Used to Know"
"Everybody Wants to Rule the World"
"

Gone, Gone, Gone

"
"Finally"
"Save Yourself"
References