Date of death
{{{dateofdeath}}}
Place of death
{{{deathplace}}}
[{{{website}}} Official Site]
[{{{facebook}}} Facebook]
[{{{myspace}}} Myspace]
[{{{twitter}}} Twitter]
[[:Category:{{{Images}}}|Images]]
Gregory Michael Sporleder, born April 24th, is an American actor who plays the role of Calvin Norris on the HBO original True Blood. Making his debut on the episode "Beautifully Broken" in the series' third season, Gregory is a co-starring actor who plays the role of a werepanther living in Hotshot, Louisiana, a small town adjacent to the neighboring town of Shreveport. The father of werepanther Crystal Norris, Gregory plays a recurring role through the series' third season, and meets an untimely demise on the episode "Evil is Going On", at the end of the series' third season.
Biography
Edit
Birth name is Gregory Michael Sporleder.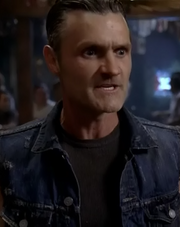 Filmography
Edit
The Sierra (2010)
The Crazies (2010)
17 Again (2009)
Hotel for Dogs (2009)
Black Hawk Down (2001)
Television
Edit
True Blood (2010)
The Mentalist (2010)
Monk (2009)
Carnivale (2003)
24 (2002)
Smallville (2002)
In the early 80s, Greg was a counselor at Camp Wildwood in Bridgeton, Maine.
Starred in Sheryl Crow's video "All I Wanna Do", for several months until Crow was nominated for Grammy. At this time his part was trimmed down. The video appeared around the world starring Gregory for a while.
Plays the trumpet.
Voted best dancer in his senior year of high school.
Graduated from University City Senior High School, in University City, Missouri (a suburb of St. Louis). The same high school as rapper Nelly, actor, Edgar L. Davis and animator, Marlon West.
Appearances
Edit
Ad blocker interference detected!
Wikia is a free-to-use site that makes money from advertising. We have a modified experience for viewers using ad blockers

Wikia is not accessible if you've made further modifications. Remove the custom ad blocker rule(s) and the page will load as expected.