[[:Category:{{{Images}}}|Images]]
Hotel Carmilla was a hotel for vampires on the HBO original series True Blood. The only hotel in the Dallas area that had undergone the extensive renovation necessary to accommodate vampire patrons, the Hotel Carmilla features shutters that completely block out the sun, comfortable sleeping conditions, and room service catering to both human and vampire whims.
The Hotel Carmilla is located in Dallas, Texas.
Background
Edit
The hotel was used by Godric's nestmates as a safe haven after the suicide bombing of their nest. The roof of the hotel was also the site of Godric's death. ("I Will Rise Up")
The hotel's room service includes professional "Fangbangers", which can be ordered from the menu.
Sookie Stackhouse had her first encounter with Barry, another human/fae hybrid, during her first stay here. ("Shake and Fingerpop")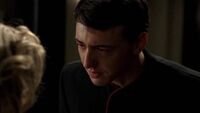 The morning breakfast room serves as a sunny backdrop when Sookie tries to develop a friendship with Barry while he's working the buffet. Her ill timed attempt only manages to frustrate the reclusive vampire hotel employee and he walks away from her. ("Never Let Me Go")
Filming Locations
Edit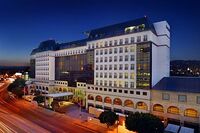 The scenes of the Hotel Carmilla were filmed at the Sofitel Hotel, at 8555 Beverly Blvd., in West Hollywood. This hotel is directly across from the Beverly Center mall, on the north side of Beverly Blvd, just west of La Cienega Blvd. Note that although this hotel does have a heliport on its roof, they did not film the Godric's rooftop scenes here.
Ad blocker interference detected!
Wikia is a free-to-use site that makes money from advertising. We have a modified experience for viewers using ad blockers

Wikia is not accessible if you've made further modifications. Remove the custom ad blocker rule(s) and the page will load as expected.