I Will Rise Up
Talk

0
1,358pages on
this wiki
"I Will Rise Up" is the ninth episode of Season 2 of the HBO original series True Blood, and the series' twenty-first episode overall.

Vampires and humans clean up in the aftermath of the explosion. Eric tricks Sookie into drinking some of his blood, much to Bill's dismay. As a result of the lapse in security, Godric's leadership falls under review but his response surprises everyone, especially Eric, who begs him not to go through with his plan. In Bon Temps, Maryann is out to find Sam Merlotte and complete the ritual sacrifice. She casts a spell on everyone in Sam's bar to get them to look for him. Lafayette and Tara's mother forcibly remove her from Sookie's house. Hoyt and Jessica get used to their situation and Hoyt decides it's time to introduce his true love to his vampire-hating mother.

"I didn't have any say about being normal.
We're born the way we are."
― Sookie Stackhouse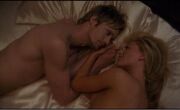 Three vampires including Stan Baker and two human companions are killed in an explosion. Eric, who was wounded in the explosion protecting Sookie, convinces her that he cannot heal himself with the silver shrapnel lodged in his body. Sookie sucks out the shrapnel, ingesting some of his blood. Bill later reveals that Eric had fooled her and would have healed anyway.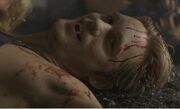 Bill explained that now
Eric
would be capable of sensing her feelings like Bill does, and that she may begin to become attracted to Eric sexually despite her already being in love with Bill. He states that "[Eric] was determined to make this bond with you". Sookie is repulsed by the thought and Eric's deception.
Back in Bon Temps, Hoyt tells Jessica that he wants her to meet his mother. A badly-bruised Tara and Eggs awake to Maryann and discuss blacking out again the night before. Tara resents blacking out and the loss of control, in part because of her experience with her mother. Maryann waxes poetic about the importance of losing control and how the mystics of various religions allow for the necessity for chaos which allows them to "lose themselves and unite with their god" through ecstasy.
Back in Dallas, Sookie heads to Jason's room where they have a heartfelt discussion on what they mean to each other and the fact that they only have each other now. Having reached a new understanding, they then start flipping through channels and find Reverend Newlin and his wife on TV, bickering with Nan Flanagan, leader of the American Vampire League.
In between sparring with Flanagan, they snipe at each other, revealing the strain in their marriage. The Newlins reveal that Godric volunteered himself to be taken by the Fellowship of the Sun at the Light of Day Institute.
Eggs and Tara later go to Merlotte's, and an irate Lafayette accuses Eggs of being the cause of Tara's bruises. Eggs makes a few anti-gay remarks at the accusation. As the clientele and staff watch, a physical fight begins between Lafayette and Eggs and everyone shouts as if they are at a boxing match and no one comes to break it up. Tara breaks it up but in the meantime gets hit accidentally before forcing Eggs out the door.
Hoyt and Jessica discuss how her hymen will constantly grow back no matter how many times they have intercourse, rending her a perpetual virgin. It distresses Jessica, while Hoyt takes it in stride. He later convinces Jessica to meet his mother, Mrs. Fortenberry. Later, with his mother, Hoyt argues with her over what a hateful person she is, reciting a litany of things she hates including Methodists, Catholics, African Americans and women with red shoes.
He tells her that she is going to meet Jessica.
In Dallas Sookie dreams of laying naked with Eric and exchanging sweet conversation while Lorena watches in the background saying that Sookie no longer cares for Bill. At the end of the dream sequence, Eric whispers, "This is the beginning" after climbing on top of Sookie. Maryann goes to the jail and looks for Sam, but Sam spots a fly and shape shifts into one, escaping from the cell. Maryann then sets her disciples free after she does her equivalent of glamouring to Sheriff Dearborne.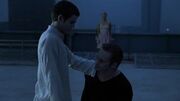 Hoyt and Jessica meet Mrs. Fortenberry who is very mean to Jessica, whose fangs come out, and belittles her for not being able to bear Hoyt's children. This realization upsets Jessica and she leaves the booth in tears of blood. Later that night, Lafayette and Lettie Mae show up at Sookie's house to find Eggs, Tara, and Maryann drinking.
Lettie Mae pleads for Tara to change her ways before Maryann blacks out Tara and Eggs. Tara begins attacking her mother's alcoholism and a black-eyed Tara and Eggs begin fighting with her mother and Lafayette respectively. Tara hits her mother and chokes her. Maryann looks on the fight with delight. After beating Eggs to the floor despite Egg's blacked-out state and repeatedly kicking him, Lafayette quickly picks up Tara and he and Lettie Mae take her away.
Maryann discourages Eggs from following saying Tara will be back with Lafayette and Lettie Mae eventually. Sam, as a fly in Sookie's house, witnesses all of this.
In Dallas, Eric and the vampires defend their recent actions to Nan Flanagan, the AVL spokesperson. She berates Godric for his actions and fires him from his Sheriff position. Godric agrees with her and further resigns his other offices and tells the group that he did in fact go to the L.O.D.I as a volunteer sacrifice in part to spare any other vampire from being abducted. Eric quickly grows irritated with Nan's demeanor and pleads with Godric to fight against Nan, who is a mere bureaucrat. Nan accepts Godric's resignations saying "works for me". He then tells Nan exactly what happened regarding the suicide bombing.
Meanwhile an irritated Maryann walks into Merlotte's demanding to know where Sam is, saying a sacrifice must be made. The patrons, eyes black including Mrs. Fortenberry, say they don't know. Maryann, with supernatural wind blowing in the restaurant, demands loudly that they find him. As she does so Sam arrives naked at Detective Bellefleur's door. He reacts mildly at Sam's nakedness.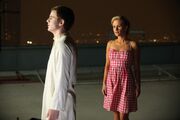 Back at the meeting with Nan, Godric offers a general apology for all the harm he has caused in his life and the losses of both humans and vampires. Godric names Isabel as his successor and swears to "make amends". Eric is visibly upset, detecting and dreading Godric's intention. Nan, not sensing the gravity of Godric's statement says "Take it easy, it's just a few signatures". The meeting breaks up and Godric moves to go to the roof. Eric intercepts him saying "No". "Look in my heart" he tells Eric and goes to the roof.
Bill approaches Eric stating that "we have a score to settle." "Not now" Eric says. "Yes, now!" and Bill punches Eric in the mouth, to which Eric shrugs off and simply leaves to meet Godric on the roof. Sookie tells Bill she must go see Godric because she knows he is hurting. Bill once again is in admiration of her tender heart.
On the roof with Sookie watching, Godric explains to Eric that 2,000 years is enough and he no longer thinks like a vampire. Eric breaks down in tears, saying what Godric is going to do is insanity. Godric says vampires, their very existence, is wrong. "We don't belong here". Eric begs Godric not to meet the sun stating that he will keep him alive by force, but Godric says that it would be cruel of him even if he could. Eric makes his final tearful pleas to Godric in their native Swedish, falling before his maker to his knees sobbing.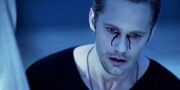 "Fader, broder, søn" (Father, brother, son) he lovingly says to a crying Eric, "let me go". Eric offers to die with him but Godric tenderly commands Eric, as his maker, to leave the roof. Despite everything, Sookie affectionately touches Eric's hand promising him that she will stay with Godric for "as long as it takes."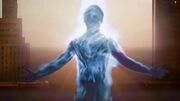 Alone, Godric tells Sookie that he thought sacrificing himself to the L.O.D.I. would help things. He ask Sookie if she believes in God. She says yes, and he asks if he will punish him. Sookie says "God doesn't punish, God forgives" He says he doesn't deserve it but hopes for it. He asks Sookie to look out for Eric. His body then begins to smoke. Sookie begins to weep, asking if he was afraid. He tells her he is full of joy. He is surprised that a human would be with him and weep for him. After 2,000 years he could still be surprised.
He then turns to face the daybreak sun, takes off his white tunic and silently, without pain, and with acceptance on his face, rises up to see God, vanishing in blue-white flame.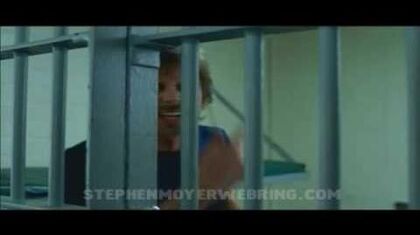 Memorable Quotes
Edit
Memorable Dialogue
Edit
LODI Kid: "Oh God...oh God.."
Bill Compton: "You tell the cowards who lead you, the cowards who send children to do their killing: that a vampire showed mercy where they had none."

References
Edit
External Links
Edit
Television without Pity's 24-page recap