"If You Love Me, Why Am I Dyin'?" is the third episode of Season 4 of the HBO original series True Blood, and the series' thirty-ninth episode overall.
Sookie makes a deal with Eric and reconnects with Alcide; Bill punishes an errant vampire and counsels a guilt-ridden Jessica; Jason is cast as a reluctant savior; Tommy eyes a scam and alienates Sam; Marnie flexes her newfound powers; Pam delivers an ultimatum to Lafayette, Tara and Jesus; Eric spoils Sookie's faerie reunion.
"You just killed my fairy godmother!"
― Sookie Stackhouse, to Eric Northman
Sookie finds a shirtless Eric wandering the streets, suffering from amnesia. Sookie tries to run away, but after seeing the seriousness of his situation, decides to help. She tries to conceal the fact that he owns her house, and even keeps him from stepping on the rug with his muddy feet, but after mistakenly calling Pam for help, the truth comes out and Sookie is pushed further into the situation, especially since Pam believes this was set up by Bill.
Jason is still captive in Hotshot. He is covered in bite wounds and his transformation from human to werepanther is nearly complete. He pleads with Crystal to let him go. She refuses, intending to use him to get her pregnant and continue the pack, which has been decimated by inbreeding. Luther sits and tells stories to the younger generation of inbred werepanthers.
A Vampire is caught on amateur video feeding on a human. The clip is uploaded to YouTube and Bill sentences the vampire to true death for the crime of being caught feeding. Bill gets a visit from a very guilty Jessica, who has just cheated on Hoyt Fortenberry (by feeding on another human) and isn't sure what to do. This illuminates Bill's deception of Sookie, and creates a sweet moment between the maker and his progeny.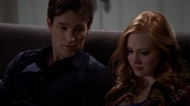 Marnie Stonebrook awakens unable to remember cursing Eric. Lafayette Reynolds tells the coven that they need to make amends, or Eric will kill them all for what they have done. The coven members decide that they need to fight back to preserve their way of life. Tara is upset that after two days in Bon Temps she is already dealing with vampires and witches. She urges Lafayette to stay away from Fangtasia. He ignores her and is attacked by Pam. Tara and Jesus arrive in time to intervene, and Pam gives them 24 hours to make things right.
Sookie visits Alcide in Shreveport, and is surprised to find him living with a sober, and newly blonde, Debbie. Tommy is still living with Maxine, and during one of her many calls to the home shopping channel, he answers the door to a prospector wanting to buy the natural gas rights on her property. Tommy keeps the news to himself, and goes to Sam with a plan to steal the proceeds from selling her rights. Sam is unimpressed, and urges Tommy to come clean.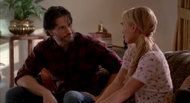 Jessica returns home and confesses to Hoyt, who is angry with her. A weird doll is also back in their home, and seems to keep returning, no matter what they do to get rid of it. It adds fuel to the fire of their argument as Hoyt thinks Jessica is playing a joke on him. Out of desperation, Jessica glamours Hoyt to forget that anything ever happened. Later Jessica goes to give the doll to Arlene's baby, calling it an heirloom. Arlene remains suspicious of her infant son because of his father.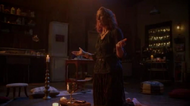 Marnie tries to reconnect with the spirit that possessed her, raising a glimpse in the mirror. We also get another look at tough-as-nails Tara, who continues to show incredible growth.
Andy's sister Portia Bellefleur makes a pass at Bill. He is receptive but has reservations. She feels she can live with his terms and the two go off together. Andy continues to struggle with his V addiction, saying a sobriety prayer but giving in and taking a dose while on patrol.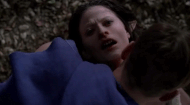 Sookie arrives home late at night and instead of Eric finds Claudine on her front porch. Claudine asserts that she has saved Sookie many times, and begs for Sookie to join her. Eric attacks Claudine suddenly and begins to feed on her. Claudine's light is slowly taken from her and her body turns to ash. Sookie yells at Eric for killing her fairy godmother, and he weakly replies, "Sorry."
Accolades
Edit
This episode currently hasn't received any awards.
Allusions
Edit
When Sookie is sitting at the dinner table, the book she is reading is Grave Secret by Charlaine Harris, who invented Sookie and the other True Blood characters.
Bloopers and Continuity Errors
Edit
In this episode Marnie, when ranting to the coven about Eric, remarks that he entered their shop uninvited which goes against everything the show has stated about Vampires. However, since the shop is a public establishment (like Merlotte's) it is possible that Eric would be allowed to enter however, it is most likely that Marnie is the building`s owner and it is not explained why she simply did not command Eric to leave.
Continuity
Edit
There are no continuity notes for this episode.
Flashbacks
Edit
There are no flashbacks that occur in this episode.
Miscredits
Edit
There are no miscredits that occur in this episode.
"The Wreck of Us" - Acumen Nation
"If You Love Me (Why Am I Dyin')" - Boxing Ghandis
"Montgomery Moonlight" - Ohio Sound Machine
"Restraining Order Blues" - Michelle Malone
"Nowhere" - G. DaPonte
"Who Needs Forever" (Thievery Corporation Remix) - Astrud Gilberto
"Child's Play" - Dave Pezzner
"Season of the Witch" - Karen Elson feat. Donavon
Production
Edit
There are no production notes available for this episode.
There are no notes on the title based on this episode.
There is currently no trivia associated with this episode.
Memorable Quotes
Edit
Andy Bellefleur: "God grant me the serenity... fuck it."
Bill Compton: (to Portia) "I can never love you."
Crystal Norris: "I'm gonna be mama to all your baby cubs. Of which there will be many."
Eric Northman:
"I know I'm a vampire Snookie!"
(to Sookie) "It tickles ... You are really beautiful."
"Would you like to be mine?"
Jason Stackhouse: "You've reached Officer Jason Stackhouse. If this is an emergency, dial 911 and ask for me."
Lafayette Reynolds:
(to Tara) "Bitch you need to do yourself a solid and get the fuck on out this fucked up place."
"I'm going to beddy-bed, ya'll bitches clean."
Pamela Swynford de Beaufort:
(as she's feeding on a loud fangbanger) "Dial it back a notch, Jethro. You're starting to piss me off."
"I will give you 24 hours to deliver that witch to me. And if you don't, I will personally eat, fuck and kill all three of you."
"Eric has to stay here with you and no one can know."
Tara Thornton:
"I was just traumatized."
"It's been a while since I've been attacked by a vampire, and guess what, it still sucks."
Memorable Dialogue
Edit
Sookie Stackhouse: "Eric! You just killed my Fairy Godmother!"
Eric Northman: "Sorry..."
Trading Cards
Edit
Episode B1
Edit
Episode Ratings
Edit
Episode #
Episode Title
Viewers (in millions)
#4.03 (39)
"

If You Love Me, Why Am I Dyin'?

"
5.04