Jackson Herveaux
Talk

0
1,276pages on
this wiki
Mentioned in
{{{Mentioned}}}
Profession
Owner of Herveaux Construction
Powers
Able to shift into wolf form
[[:Category:{{{Images}}}|Images]]
Jackson Herveaux is a recurring character in the fifth season. He is played by guest star Robert Patrick and debuts in "Everybody Wants to Rule the World". He is the father of Alcide Herveaux and a werewolf. He was the former Packmaster of Jackson, Mississippi.
Biography
Edit
Alcide recalls Jackson teaching him and his peers about vampires, shape shifters and werewolves. when he was a teenager He talked about how werewolves survived for thousand of years by being in a pack and the difference between men and wolf. After the talk, Jackson tells the teens that they have 2 choices: Become a packmember or not. Alcide and a young Debbie chose Pack and he makes a sign on their foreheads.
Alcide visits his father who is living in a trailer. They both share a drink and Alcide says he failed to earn Packmaster and is a lone wolf. Jackson replies that Alcide is just like him now. ("Everybody Wants to Rule the World")
Alcide and Jackson receive an unexpected visit from Robert Rollins, a member of Jackson's old pack. He comes to Jackson's trailer to caution them that baby vamp packs are on the loose. Jackson tells him to get off his land and Robert retaliates by saying that he shouldn't have done what he did and could still be in the pack. Alcide confronts Jackson after Robert leaves and explains that he knows he stole money from the pack leading to his being forced out of the pack.
Alcide and Jackson defend their neighbors from a trio of young vampires, destroying two of them and driving away the third. ("Sunset")
Alcide is talking with his father when Martha brings Rikki to the trailer. She has been forced to drink an overdose of V. Jackson gives her a colloidal silver remedy to force the blood out. Alcide wants to fight JD again to oust him as pack master. His father suggests that they even the playing field by drinking his stash of high quality V.
The Shreveport werewolf pack torture a captured vampire and drain his blood. Alcide, Jackson and Martha confront them. JD tells Alcide that he is abjured but Alcide attacks and beats him to death while the pack looks on. With JD dead, Alcide pronounces himself pack master and lays down the law to his pack. ("Save Yourself")
We find Alcide taking over his pack as they eat the latest packmaster, J.D. Jackson tells him to eat the flesh, one of the wolves brings an arm over to Alcide so he can inherit the flesh and truly become the new packmaster. He takes a bite out of the arm and is now the new pack master. Danielle, a young woman from the pack, shifts from wolf to human and tells Alcide that she is more than willing to serve him in any way he needs. ("Who Are You, Really?")
After Alcide is killed by members of Vince's mob, Sookie calls Jackson to let him know of his son's death. ("Death is Not the End") Jackson arrives at Sookie's house the next night, where he and Jenny are recruited by Lafayette to hold a "celebration of life" party. Jackson eulogizes his son in brief during a private moment at the party. Later, he's seen walking around the house where he overhears a conversation between Sookie and Arlene about dealing with the death of their significant others. ("Lost Cause")
Powers and Abilities
Edit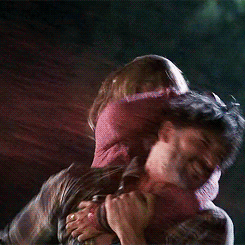 Jackson is a Werewolf. He seems to be more powerful than an average Human or a Werewolf, but weaker than a Vampire of a moderate age. A testament of his strength is during his rein as packmaster. In his wolf form his fur is black and his eyes are yellow. He is also has accurate aim with a bow and arrow. Werewolves appear to have heightened senses while in Human form.
Appearances
Edit
Season five appearances
"Turn! Turn! Turn!"
"Authority Always Wins"
"Whatever I Am, You Made Me"
"We'll Meet Again"
"Let's Boot and Rally"
"Hopeless"
"In the Beginning"
"Somebody That I Used to Know"
"

Everybody Wants to Rule the World

"
"Gone, Gone, Gone"
"

Sunset

"
"

Save Yourself

"
Season seven appearances
"Jesus Gonna Be Here"
"I Found You"
"Fire in the Hole"
"

Death is Not the End

"
"

Lost Cause

"
"Karma"
"One Last Time"
"TBA"
"TBA"
"TBA"
References
Edit