Background
Edit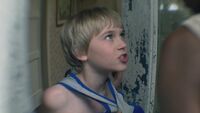 Jason was born to
Corbett
and
Michelle Stackhouse
in
Bon Temps,
Louisiana
. He has one sister,
Sookie
, who is younger by three years. At the age of 11, Michelle and Corbett were murdered by the
vampire
Macklyn Warlow
. According to 
Bud Dearborne
, -- the-then Sheriff of
Renard Parish
-- the cause of death was presumed to be drowning when their vehicle was found washed out during a flash flood. Because this event occurred before the Great Revelation, the bite marks found on the bodies were assumed to be caused by alligators. After their deaths, Sookie and Jason were both left in the care of their paternal grandmother 
Adele Stackhouse
.
Jason's best friend throughout his childhood was Hoyt Fortenberry, whom he often defended against school bullies. As a teenager, they both played on their high school football team; Jason was the star quarterback. At around 13 or 14, he lost his virginity to one of his teachers, Jill Steeler, which triggered a rather promiscuous adolescence and young adulthood.
At 18, Jason moved back into his parents' old house. He worked as a supervisor of a road crew that included his friends Hoyt, René Lenier, and Lafayette Reynolds. At the beginning of the series, Jason is notorious in Bon Temps for being a womanizer, having bedded nearly every young woman in town, including Sookie's friend and fellow Merlotte's waitress Dawn Green.
Ad blocker interference detected!
Wikia is a free-to-use site that makes money from advertising. We have a modified experience for viewers using ad blockers

Wikia is not accessible if you've made further modifications. Remove the custom ad blocker rule(s) and the page will load as expected.