Jonas Stackhouse
[[Image:|Jonas Stackhouse|]]
Mentioned in
{{{Mentioned}}}
Profession
{{{Profession}}}
Has shifted into
{{{Shifts}}}
Notable Progeny
{{{Progeny}}}
Notable kills
{{{Kills}}}
Cause of death
{{{Cause of death}}}
Killed by
{{{Killed by}}}
Hair color
{{{HairColor}}}
[[:Category:{{{Images}}}|Images]]
Jonas Stackhouse is the ancestor of Sookie and Jason Stackhouse, and was the first member of the Stackhouse family to live in Bon Temps, Louisiana. Born in 1801, it is believed that it was he who built the still standing Stackhouse home sometime after his arrival in Bon Temps, in 1834. Beyond this, only a small amount of Information is known about Jonas Stackhouse.
Jonas was believed to have arrived in Bon Temps, Louisiana in 1834 and to have raised a family by 1850. He died in the 1870s due to an unknown cause.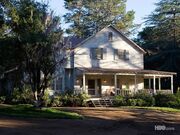 Ad blocker interference detected!
Wikia is a free-to-use site that makes money from advertising. We have a modified experience for viewers using ad blockers

Wikia is not accessible if you've made further modifications. Remove the custom ad blocker rule(s) and the page will load as expected.