Kenneth
Talk

0
1,122pages on
this wiki
Kenneth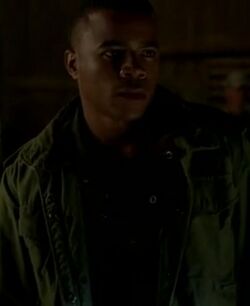 Mentioned in
{{{Mentioned}}}
Date of birth
{{{Birth}}}
Date of death
{{{Death}}}
Profession
{{{Profession}}}
Powers
Able to shift into Werewolf form
Family members
{{{Family}}}
[[:Category:{{{Images}}}|Images]]
Kenneth is a recurring character in the fifth season. He is played by co-star Marque Richardson and debuts in "Turn! Turn! Turn!". He is Werewolf in the Shreveport pack.
Biography
Edit
After the capture of Sam Merlotte by his pack, Kenneth was in the barn in which Merlotte was tortured in order to find out where he had placed the body of Marcus Bozeman, their Packmaster. He was talking with Danielle, another member of the pack of Shreveport, when Martha Bozeman arrived. ("Turn! Turn! Turn!")
Later, Alcide Herveaux, warned by Luna Garza, revealed to the pack in front of the body of Bozeman that it was he who had killed him. Considering Herveaux as the new packmaster, Danielle and Kenneth knelt before Alcide before being violently handed up by J.D., who exclaimed that he will never bow to Alcide Herveaux. ("Turn! Turn! Turn!")
The pack mourns Marcus by feasting on his corpse. Alcide refuses to take over as pack leader and is allowed to leave. Luna takes Sam home. ("Authority Always Wins")
JD assembles the pack at the barn and tells them about his vampire friend (Russell). JD announces that Russell foretold an End of Days. JD thinks the pack should ally with the vampires. He challenges them to prove their acceptance by drnking Russell's blood. A female were gives in and says okay to drinking a vial. Emma says that she's scared and JD says that the blood will make her a big strong wolf. JD hands Emma a vial of blood just as Martha arrives. She says "I don't know you anymore" and takes Emma out of there. ("In the Beginning")
Alcide challenges JD as pack master. Kenneth watches as JD forces Alcide to compete in hunting a human and uses V to gain a physical advantage. Alcide refuses to participate in the hunt and fights JD to ensure the human's escape. JD abjures Alcide. ("Somebody That I Used to Know")
Russell Edgington greets JD and the pack at the barn. Russell bites his own wrist and the wolves flock to him for a drop or two. He notices Martha, who is holding Emma in her puppy form. When Martha says she'll never drink from Russell, he grabs Emma and gives her to his companion Steve Newlin as his first pet. Martha is upset and desperate. JD tells Russell that he can't let him do this. Russel grabs him by the throat and asks him if he thought his blood was free. The vampires leave with Emma. ("Everybody Wants to Rule the World")
JD's leadership takes a dark turn; he condones rape and force feeds reluctant pack members V, giving Rikki an overdose. Martha takes Rikki to Alcide for help.
As the pack torture a captured vampire and drain his blood, Alcide, Jackson and Martha confront them. JD tells Alcide that he is abjured but Alcide attacks and beats him to death while the pack looks on. With JD dead, Alcide pronounces himself pack master and lays down the law to his pack. ("Save Yourself")
Appearances
Edit