Mentioned in
{{{Mentioned}}}
Date of death
2009 (met the True Death)
Powers
All vampire abilities
Has shifted into
{{{Shifts}}}
Notable Progeny
{{{Progeny}}}
Cause of death
{{{Cause of death}}}
Killed by
{{{Killed by}}}
Hair color
{{{HairColor}}}
[[:Category:{{{Images}}}|Images]]
"Ya little fuck!"
―Antonia Gavilán de Logroño, to Luis Patiño
Luis Patiño was a vampire on the HBO original series True Blood. Played by Lebanese guest starring actor Peter Macdissi, Luis makes his debut on the episode "Me and the Devil" in the series' fourth season. The vampire sheriff of Louisiana's Area 3, Luis played a recurring role through the same season, and met an untimely demise at the hands of Antonia Gavilán de Logroño in the Season 4 episode "Cold Grey Light of Dawn".
Biography
Edit
Background
Edit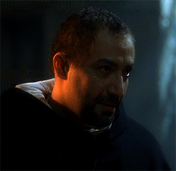 Luis was born in Bilbao, Spain in the mid-1500s. He fought in and survived the doomed Spanish Armada at the Battle of Gravelines in 1588. He returned to Spain as a war hero, but with significant injuries and was eventually "made" vampire by Don Santiago.
During the early 17th century Luis and his maker were among the many vampires who had infiltrated the Roman Catholic Church.
Whilst in Logroño, Spain, Luis and his maker spent their time feeding off and raping prisoners of the Catholic Church. One of their victims was an extremely powerful witch named Antonia Gavilán de Logroño. As Luis and his maker tormented her and her coven, she vowed revenge. While she was being burnt at the stake, Antonia cast a powerful spell that woke all vampires within a twenty-mile radius from their sleep, forcing them to meet the sun. Luis was in Granada at the time, thus he was spared from the spell's effect. His maker, however, was not.
After explaining the dangers of witchcraft to his fellow vampires, Luis becomes more than eager to kill Marnie Stonebrook. Due to the fact vampires are currently forbidden from harming humans, Bill Compton rejects Luis' ambitions but holds her prisoner instead. ("Me and the Devil")
Uncertain of Marnie's ultimate intentions, Luis disobeys his king's command and visits the witch in her cell. Surprised to discover that Antonia had taken over the body of Marnie, Luis attempts to attack her, but is enslaved by the power of her magic. ("I Wish I Was the Moon")
Antonia bewitches Luis to help her escape. She forces him to bloodlessly kill Katerina Pellham, in revenge for Katerina betraying Marnie. She instructs him to relay a message to his king, informing Bill that she has returned. Luis does as he is told and then attacks Bill. Bill grabs a stake to defend himself. Luis is forced to kill himself by forcing the stake into his own chest, saying "Resurrection" as he dies. ("Cold Grey Light of Dawn")
Powers and Abilities
Edit
He is portrayed by Peter Macdissi, and appears in 3 episodes of season 4.
He is named after the True Blood producer of the same name.
Based on the Season 4 Blu-ray, Luis Patiño would have been made a vampire sometime in between 1588 - 1610. Most likely in the 1590s.
Appearances
Edit