M. Warlow
Talk

7
1,133pages on
this wiki
Macklyn Warlow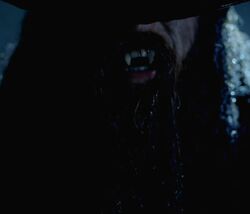 Mentioned in
{{{Mentioned}}}
Date of birth
{{{Birth}}}
Powers
All vampire abilities
Portrayed by
Unidentified extra
[[:Category:{{{Images}}}|Images]]
"It smells so good in here!"
―Macklyn Warlow
Macklyn Warlow is a recurring character in the fifth and sixth seasons.
Warlow is the vampire who attacked and killed Corbett and Michelle Stackhouse. This mysterious figure, whose face remains covered, seemingly has the ability to manifest himself as a semi-transparent entity. Warlow was sent to another dimension by the fairy elder, like she tried to do with Russell Edgington, but now that she is dead he is able to return.
Biography
Edit
Background
Edit
Warlow is first seen in a flashback when he sensed/smelled Sookie's bloody band-aid in the back seat of Corbett and Michelle's car. It was assumed they were killed in a flash flood on a bridge, however Sookie discovers a vampire was actually to blame.
"I am coming for you! You are mine!"
―Warlow to Sookie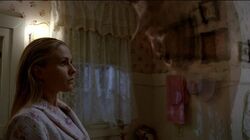 Sookie uses Claude and other faeries to perform a ritual to try and discover who actually attacked and killed her parents. She discovered that Claudine had zapped the culprit. Sookie remembers that Claudine had called him "Warlow". He later reached out to Sookie through the ripples, and warned her that he was "coming for her".
After Jason finds an old manuscript under Adele Stackhouse's floor board, Sookie and Jason take it to an expert to have it identified. The expert declares it is not any language known to humans. The Stackhouses take it to the faeries to translate. According to Maurella, it is a vellum document signed in blood dated in 1702, a contract between John William Stackhouse and M. Warlow that promises the first fae-bearing female in the Stackhouse line to Warlow. According to Claude, that female happens to be Sookie.
"How'd you know Warlow?"
Jason mentions under his breath that he is coming for Warlow; an astonished Nora overhears and asks what Jason knows about him. The clip ends before Nora can elaborate.
Appearances
Edit
Season five appearances
"Turn! Turn! Turn!"
"Authority Always Wins"
"Whatever I Am, You Made Me"
"We'll Meet Again"
"Let's Boot and Rally"
"

Hopeless

"
"In the Beginning"
"

Somebody That I Used to Know

"
"Everybody Wants to Rule the World"
"Gone, Gone, Gone"
"Finally"
"Save Yourself"
Warlow is the name of a municipality in Germany, according to Wikipedia.[1]
Warlow is an English surname of medieval origins according to Surnamedb.com.[2]
References
Edit