Me and the Devil
Talk

1
1,361pages on
this wiki
"Me and the Devil" is the fifth episode of Season 4 of the HBO original series True Blood, and the series' forty-first episode overall.

Sookie nurtures Eric; Bill gets involved personally in the necromancy crisis; Pam takes the veil; Sam becomes Tommy's accomplice; Arlene and Terry look to religion to solve their problem; Jesus and Lafayette head to Mexico to harness a shaman's power; Jason convalesces.

Synopsis
Edit
"You are incapable of love...
You are damned!"
― Godric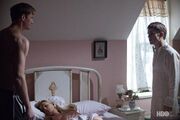 Eric watches Sookie sleeping and turns to see Godric standing next to him. Godric begins to run his hand along Sookie's body, and Eric stops him, saying "Don't touch her." Godric demands that he drink from Sookie. It turns out that Eric is simply having a dream. Sookie wakes to ask Eric what the hell he's doing. He states he's had a bad dream.
Jessica and Hoyt put Jason in his bed and let him sleep. Hoyt thanks Jessica for saving his best friend's life. He tries to kiss her, but Jessica is cold and distant. Hoyt asks what's wrong, but Jessica swears nothing is wrong. Hoyt still feels as though something's wrong. Hoyt stays with Jason and Jessica leaves. Later, Jason has a sexual dream about Jessica and Hoyt.
Bill gets a late visit from Portia. She continues to want a relationship with him, despite the fact they are related. Bill glamours her into screaming and running away every time she sees his face.
Eric is comforted by Sookie in her bed. He lays his head in her lap while she strokes his hair. Sookie lets him stay in her bed until sunrise. He puts Sookie's arm around his chest.
Pam visits Bill and insists that he helps find Marnie to reverse the spell cast on her face.
Lafayette and Jesus Velasquez are packing to leave for Mexico. Jesus says his grandfather, a brujo is a very powerful man and can help them. Jesus tells Lafayette a story about his grandfather and a pet goat that his grandfather forced him to kill.
Tara says she is leaving for New Orleans, and hugs Lafayette goodbye. Tara calls Naomi, who questions her about the mail she received from the Social Security Administration addressed to "Tara Thornton", considering Tara told her that her name was "Toni."
Tommy pulls up to Sam's trailer and shows him the bodies of Joe Lee and Melinda Mickens in the van. At work, Sookie confronts Holly Cleary about her witch group. She reads her mind and gets information about Marnie and the Moon Goddess Emporium.
Jason eats breakfast with Hoyt at Merlotte's Bar and Grill. He talks to Hoyt, telling him how he was raped, and that maybe it was God's punishment for all the casual sex he had enjoyed. Holly barks at Sookie for supposedly taking her eggs and mentions a full moon, which Jason balks at.
Reverend Daniels brings his new wife, Lettie Mae, to Arlene and Terry's home. They begin to sing Gospel songs, while Terry and Arlene watch. They eventually begin to sing along. Reverend Daniels prays and burns sage with Lettie Mae.
Sookie goes to the Moon Goddess Emporium and finds Marnie. She tells her that she wants a reading. During the reading, Sookie hears Gran. She warns Sookie to stay away from Marnie and to run away quickly. Sookie heeds the advice and leaves abruptly.
Sam is pulled over while trying to help Tommy get rid of the dead bodies in the van. Andy sees blood on the door and makes Sam open the back of the van. Tommy has shifted into an alligator, which Sam says he found near some dumpsters and was bringing to the swamp.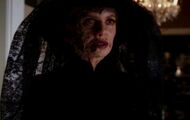 Marnie walks to the backroom and finds Katerina Pellham. Marnie is apprehended. While locked in a cell, Marnie has another vision of Antonia. Bill confronts Marnie and glamours her. He finds out that Marnie truly doesn't know how to reverse the spell she cast, leaving Pam's face hideously deformed.
Tara tells Sookie about Naomi, her girlfriend in New Orleans. They are hanging out in Sookie's living room and eating ice cream. At sundown, Eric emerges from his cubby and Tara is startled. She grabs a fire poker and yells at Sookie for having him in her house after everything Eric had done to everyone. She furiously runs off, and Eric is left surprised at the atrocious things he has done.
Lafayette and Jesus pull up to his Jesus' grandfather's house. There is a young, beautiful pregnant woman outside. As they approach the house, his grandfather appears and claims he's been expecting him.
Alcide has a knock at his door. A new Packmaster named Marcus Bozeman is angry that Alcide hasn't registered with the pack. Alcide makes him leave.
Sam and Tommy drag the bodies of Joe Lee and Melinda into a swamp. Sam tells Tommy that he has killed before also. Sam throws some marshmallows into the water, and the gators begin to eat the bodies.
Arlene and Terry finish making love. Terry notices how quiet the house is. They lay in bed and tell each other how much they mean to one another. A pack of matches ignites on their dresser.
Jason begins to have a sexual dream about Jessica. During the dream, Hoyt appears. Jason can't make him leave, and eventually wakes disturbed.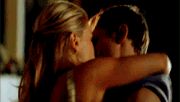 Eric knows he is capable of extreme cruelty. Sookie tells Eric she likes him. He says there is a beautiful light in Sookie and he couldn't bear it if he snuffed it out. He gets up and leaves the house. As Eric is walking off, Sookie runs on her porch and calls for him, "Please don't go." He returns to her with open arms and they kiss.
Bill is with the four remaining sheriffs of Louisiana. Duprez is sarcastic about the situation, and Bill attacks him. He tells Luis to enlighten him. Luis tells them of vampire priests, including his maker, who was killed by a witch (Antonia.) While being burned at the stake, she forced every vampire within 20 miles into the daylight, where they all perished. The sheriffs want to kill the witch, but Bill tells them the AVL has prohibited any violence. Angry, Pam yells out about what the witch had done to her and blurts out about Eric's memory loss. Bill demands to know where Eric is and Pam tells him he is at Sookie's.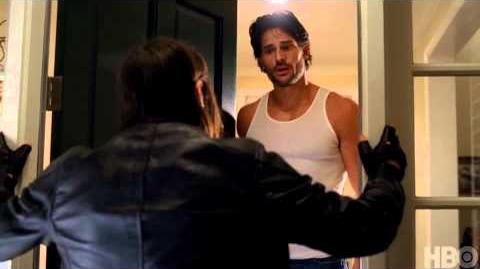 Memorable Quotes
Edit
Memorable Dialogue
Edit
Arlene Fowler Bellefleur: "Smells a little like pot."
Terry Bellefleur: "Not really."
Arlene Fowler Bellefleur: "Shhhh"

References
Edit
External Links
Edit
Television without Pity's 15-page recap