Mentioned in
{{{Mentioned}}}
Date of death
{{{Death}}}
Powers
All human abilities
Has shifted into
{{{Shifts}}}
Notable Progeny
{{{Progeny}}}
Notable kills
{{{Kills}}}
Cause of death
{{{Cause of death}}}
Killed by
{{{Killed by}}}
Hair color
{{{HairColor}}}
[[:Category:{{{Images}}}|Images]]
Melanie is a fangbanger on the HBO original series True Blood. Played by American co-starring actress Jamie Renée Smith, Melanie goes with vampire Pamela Sywnford de Beaufort to entice her vampire progeny Tara Thornton to feed on her. Melanie appears only on the episode "We'll Meet Again" in the series' fifth season.
Personality
Edit
Biography
Edit
Background
Edit
Melanie assists Pam in teaching her new progeny Tara how to feed.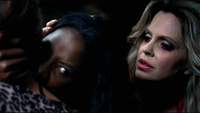 Pam wakes Tara up and introduces Melanie. She tells Tara to feed on her. Tara refuses, but Melanie says it's okay and she doesn't mind. Tara is resolute, but Pam commands Tara to feed. Tara is compelled to bite Melanie and Pam shows Tara how to properly feed without killing. Pam also soothes Tara and says that she is now on top of the food chain and no human can hurt her anymore. ("We'll Meet Again")
Appearances
Edit
Season five appearances
"Turn! Turn! Turn!"
"Authority Always Wins"
"Whatever I Am, You Made Me"
"

We'll Meet Again

"
"Let's Boot and Rally"
"Hopeless"
"In the Beginning"
"Somebody That I Used to Know"
"Everybody Wants to Rule the World"
"Gone, Gone, Gone"
"Finally"
"Save Yourself"
Ad blocker interference detected!
Wikia is a free-to-use site that makes money from advertising. We have a modified experience for viewers using ad blockers

Wikia is not accessible if you've made further modifications. Remove the custom ad blocker rule(s) and the page will load as expected.