Bellefleur's Bar and Grill
Talk

0
1,276pages on
this wiki
[[:Category:{{{Images}}}|Images]]
Bellefleur's Bar and Grill, formerly known as Merlotte's Bar and Grill, was a restaurant owned by Sam Merlotte, but is now owned by Arlene Bellefleur. It is a popular local hangout for residents of Bon Temps, Louisiana. Sam once said that he opened it as a place for people to come, sit down, and not have to dance. The restaurant has a habit of being close to the center of the supernatural and over-the-top happenings in Bon Temps, in part because it is owned by a shifter and employs a halfling, a medium, and a witch.
Bellefleur's tends to have a very poor record of service; many of its employees, including Tara Thornton and Arlene Fowler Bellefleur, are rude to the customers on a regular basis. Fights between employees within view of the customers are quite common. Others have ended up dead within weeks of each other, leading Arlene to be concerned that she would eventually be killed.
Sam has expressed relief that he has the only bar in town, otherwise very few people would actually come back to Merlotte's.
Employees
Edit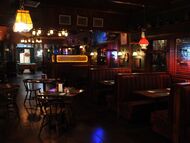 Current Employees
Edit
Former employees
Edit
People who have died in and surrounding Bellefleur's
Edit
In chronological order: