Packmaster
Talk

0
1,057pages on
this wiki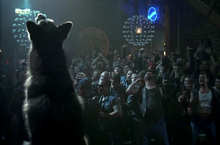 The "Alpha Wolf" within a pack is called the Packmaster, who serves as the leader of a specific community of werewolves at certain locations. According to Marcus Bozeman, Packmasters are strong, mature and peacekeepers within their packs, qualities he sees in Alcide Herveaux. Also they are supposed to be fearless, however they recognize Vampires as even more powerful beings, for example John Flood feared going against Russell Edgington, and Marcus ordered his pack to not mess with the war between Witches and Vampires.
As seen in Me and the Devil and Everybody Wants to Rule the World, Packmasters' duties includes:
Enlisting local werewolves into the pack.
Organizing full-moon meetings.
Deciding the next move of the pack towards any situation.
Training and guiding young werewolves into accept the noble, animal Pack's life intead of their human side.
Protect and respect his pack, etc.
Packmasters (Marcus at least) consider a great offense for newcomers to remain out the pack.
When a Packmaster dies, his underlings honor him by assuming wolf form and devouring his corpse. The selection of a new Packmaster seems to rest on a traditional hunting contest that ends in a combat between the most suitable members; also it seems that an elected Packmaster can be challenged to defend his leader status.
Both Cooter's and JD's packs worked under the influence of V (Russell Edgington's blood).
JD failed many times as Packmaster, mainly by leading his pack into a seemly V frenzy, by letting Russell take Emma, and by allowing the rape of teenager female werewolves.
Known Packmasters
Edit
Current Packmasters
Edit
Former Packmasters
Edit
Image Gallery
Edit