"I never forget a pretty face. You're in my vault."
―Pam to Sookie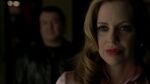 We first see Pam at Fangtasia, a bar owned by her maker, Eric Northman and co-owned by herself. She is one of the people whom Sookie Stackhouse and Bill Compton question about two murdered women.
Later, Eric forces Sookie to help him uncover who has been stealing money from Fangtasia using her
telepathic
powers.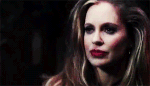 When she discovers that Longshadow is the thief, the enraged vampire attempts to kill her, however, Bill stakes Longshadow, breaking vampire law by killing a fellow vampire.
Shortly afterwards, Pam, Eric and Longshadow's replacement Chow collect Bill from Bon Temps to escort him to stand trial for his crime. Rather than imprisoning Bill for a hundred years, the Magister decides that Bill's punishment will be to replace the vampire he destroyed by creating a new vampire. Pam helps with Bill's punishment by burying him and his new progeny, a girl named Jessica, after he had drained her of blood.
Ad blocker interference detected!
Wikia is a free-to-use site that makes money from advertising. We have a modified experience for viewers using ad blockers

Wikia is not accessible if you've made further modifications. Remove the custom ad blocker rule(s) and the page will load as expected.