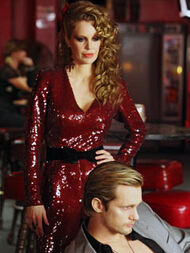 "You make me so happy I never had any of you."
"Now, c'mon Pam, they're funny. They're like humans but miniature. Teacup humans."
We first see Pam in and around Fangtasia, mostly working on Eric Northman's hair. Later, Pam, Eric and Chow got to feed on Lafayette Reynolds whom they had been keeping prisoner in the basement. After Lafayette was freed, Pam visited him at Merlotte's in Bon Temps and ordered him to sell "V" for Eric.
When Eric traveled to Dallas, Texas, Pam did not accompany him.
Toward the end of Season 2 we saw Pam, again at Fangtasia, when Sam Merlotte went there to ask Eric for help and information. With Sam were Arlene Fowler's two children.
Ad blocker interference detected!
Wikia is a free-to-use site that makes money from advertising. We have a modified experience for viewers using ad blockers

Wikia is not accessible if you've made further modifications. Remove the custom ad blocker rule(s) and the page will load as expected.