Pam Swynford De Beaufort
Talk

12
1,133pages on
this wiki
Pam Swynford De Beaufort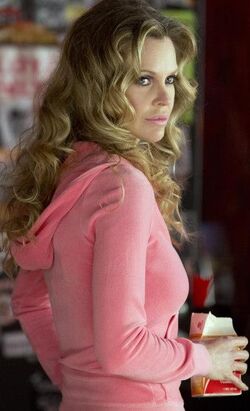 Mentioned in
{{{Mentioned}}}
Date of birth
{{{Birth}}}
Date of death
{{{Death}}}
Profession
Co-owner of
Fangtasia
Madam of the Comstock Brothel (formerly)
[[:Category:{{{Images}}}|Images]]
"There's more of them than us! Maybe we should be scared!"
―Pam to Eric.
Pamela "Pam" Swynford De Beaufort is a major character in the third,fourth,fifth, and sixth seasons of True Blood. She was initially a recurring character in the first and second seasons. She is played by starring cast member Kristin Bauer van Straten and debuts in "Escape from Dragon House". Pam (born 1871, turned 1905) is a vampire. Born in London, her human life ended when she was turned into a vampire by Eric Northman. After a century together, Pam is fiercely loyal to her maker, and despite her relative youth as a vampire acts as his second in command in his duties as vampire sheriff of Area 5, Louisiana. Along with Longshadow, and later Chow, she is one of Northman's business partners at Fangtasia. As of 2008, she is the beneficiary of Northman's will, should he ever meet the true death.
Personality
Edit
Pam is extremely loyal toward her maker, Eric Northman, and acts as his second in command despite her relative youth as a vampire. She is often blunt when explaining things or dealing with most people--vampire or not. She has a very morbid sense of humor, with a sweet yet highly lethal charm. She can also be very cold and uncaring when dealing with people and seems apathetic to others' concerns.
Eric has described her as lazy and disobedient, though she is efficient enough to finish all of her required work. Pam strongly dislikes children and appears to be much more sexually interested in women than men (with Eric being the exception), although she doesn't easily make friends with either sex. Pam believes that vampires are superior to their humans counterparts.
Powers & Abilities
Edit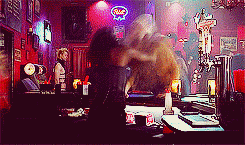 Pam has the common powers and weaknesses of a vampire such as superhuman strength, speed and healing. She has a natural affinity for glamouring. Due to her age, she is much stronger and faster than younger vampires such as Jessica and Tara but far weaker than her superiors such as Godric and Eric. However, she has shown herself capable of overpowering her elder, Bill, using a combination of liquid silver and her own enhanced vampire speed and strength. Her weaknesses include a stake to the heart, silver and fire. Sunlight will slowly kill a vampire of her age.
Image Gallery
Edit
| | |
| --- | --- |
| | There is an image gallery for |
Behind the scenes
Edit
Pam is portrayed by American actress Kristin Bauer van Straten who was a recurring cast member for the first two seasons, before being upgraded to series regular as of the third season.
Kristin has a large floral tattoo on her upper arm and shoulder. Costume and makeup cover up her tattoo from being seen.
Appearances
Edit