Patricia Bethune
Talk

0
1,471pages on
this wiki
Patricia Bethune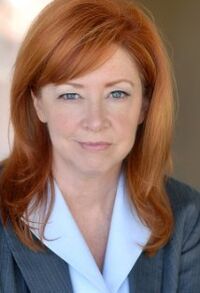 Patricia Bethune is an American actress. She portrays Jane Bodehouse in True Blood. She is a recurring guest star in the first, second, and fifth seasons.
Biography
Edit
Most recently you know Patricia as "Dr. Edna Keener"on AMC's Emmy winning drama Mad Men and as "Jane Bodehouse" on HBO's monster hit, True Blood. Patricia has recurred and guest starred in over 50 projects in her now thriving second career. She seasoned her chops early on performing in everything from standup in local venues to murder mysteries to improv. Her first and most influential acting teacher was Jeff Corey. She leapt into the scifi genre with her supporting role in Species III. Some of her past television appearances include roles on Sons of Tucson, Desperate Housewives, My Name Is Earl, Cold Case, Boston Legal, Grey's Anatomy, Gilmore Girls, Everybody Loves Raymond, Angel, Buffy the Vampire Slayer and Seinfeld. Ms. Bethune has worked steadily on the boards in Los Angeles performing in over 25 plays, garnering critical acclaim as well as two Drama Logue Awards, for the comedies MoonPuppies and Gynecomedy (an all female sketch comedy show which she also directed); a Garland Honorable Mention and an Ovation Honorable Mention for her role as Mildred in Dorothy Parker's "Ladies of the Corridor."
Originally from Chicago, she worked her way around the country in her first career as a commercial lines insurance underwriter, Patricia knew that sitting in a cubicle looking for what could go wrong each day was not the right path for her. She tried many different job options and then auditioned for her first play, the west coast premiere of the Pulitzer Prize winning play Good and got that role and roles in the next five plays she auditioned for as well. This set a new direction for her life and she has been working on the stage and in television and film ever since.
Selected filmography
Edit
Television appearances
Edit
Mad Men (2010)
Sons of Tucson (2010)
True Blood (2008-2009)
Sonny with a Chance (2009)