Photokinesis
Talk

0
1,106pages on
this wiki
Photokinesis

Ability To:

Create and manipulate light and kinetic force from the mind through the hands

Users:
Photokinesis (also called Light Manipulation or Nature Channeling) is the ability to project and control light and magical energy. Fairies are the only species shown to possess this power. A Fae with this ability can channel nature through their body and project it in a concentrated and powerful blast of light which seems to manifest as magical energy or a kinetic force, conclusively throwing or repelling objects a considerable distance. Fairies have shown to be able to combine or charge their light into a ball of energy which explodes when it hits the ground ("She's Not There"). This power has been displayed to contain mysterious supernatural effects, such as breaking illusions ("She's Not There"). It has also seen to reverse and remove spells. ("Burning Down the House")
The potency of the photokinesis seems to depend on the age of the faerie and whether the individual is full-blooded or not. As Sookie is half-faerie, her powers are limited and can be drained should she overuse them. Full-blooded faeries, such as Claudine, Claude and others, have limitless powers. Their powers are more potent than Sookie's. Lastly, older faeries, such as the Faerie Elder are much more powerful than younger faeries.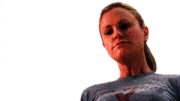 Sookie is shown to possess this ability. She has used it various times throughout the series on various individuals such as Maryann, Russell Edgington, and Cooter. In each instance (except for Maryann) the individual is knocked back several feet in the air.("Frenzy") ("Trouble")
She has also used her powers on physical objects such as when she destroyed Maryann's offering statue at the end of Season 2. ("Beyond Here Lies Nothin'") Sookie has also used her powers to break magical spells. She has done this when she blasted Eric at the Festival of Tolerance and when she zapped a circle of witches while they were holding hands. ("Let's Get Out of Here") ("Soul of Fire")
Claudine possesses this ability and used it on Bill Compton, knocking him almost 11 meters away. ("I Smell a Rat")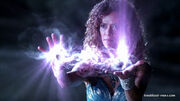 The Faerie Elder, as one of the oldest faeries has heightened photokinetic powers. Her powers seem to surpass those of younger faeries and those who are half-blooded. She easily blasted Steve Newlin back several hundred feet and knocked him unconscious. She is the only fairy to have been able to knock out a vampire. Russell made the comment that she "must be turbocharged." ("Sunset")
Image Gallery
Edit
| | |
| --- | --- |
| | There is an image gallery for |