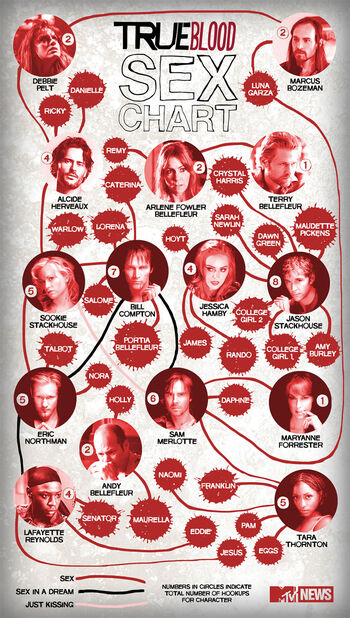 Relationships are the connections felt or developed between two or more characters. Generally connected through blood or marriage, there are several relationships that occur on the HBO original series True Blood.
Generally revolving around the series' protagonist, Sookie Stackhouse, and her relationships with others, there are even more minor relationships that take place through the series' seven seasons.
Sex Chart
Edit
There are so many relationships that take place throughout the series, in fact, that the television station MTV, as part of its MTV News segment, partnered with HBO to create and design an official "Sex Chart" to keep track of all of the major relationships that take place.
Major Relationships
Edit
Sookie Stackhouse
Edit
Tara and Sam
Tara and Eggs
Sam and Luna
Bill and Lorena
Andy and Maurella
Jessica and Jason
Crystal and Jason
Amy and Jason
Dawn and Jason
Jesus and Lafayette
James and Lafayette
Trading Cards
Edit
Relationship Cards
Edit