Release Me
Talk

0
1,361pages on
this wiki
"Release Me" is the seventh episode of Season 2 of the HBO original series True Blood, and the series' nineteenth episode overall.

Still being held in the basement at the Church, it becomes obvious to Sookie that Steve knew they were coming, but is not sure why. That tells her there is a spy among them. She tries to get a message to Bill, but he is being held prisoner by his maker, who refuses to let him go after the woman he loves. In flashbacks, Bill's conversion to a less violent lifestyle is revealed. When Steve learns Sookie's true identity, he makes the connection with Jason and assumes he's a spy. As they begin to wreak their vengeance, Sookie is saved by someone she has yet to meet. Back at the hotel Jessica and Hoyt decide to sleep together. In Bon Temps, Sam manages to escape, courtesy of a drunken Andy Bellefleur. Any plans he may have had for getting even with Daphne are overtaken by Maryann who has her own plans for her acolyte. The rest of the revelers have no memory of what happened the night before.

"It's true. You're in love with a human.
That's so tragic, it's funny."
― Lorena Krasiki, to Bill Compton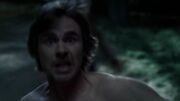 Still drunk, Andy chases the pig through the woods and stumbles upon Maryann's orgy. He fires his pistol, partially breaking the trance Maryann has induced on everyone, giving Sam the opportunity to run. Maryann starts chasing him, but Sam, hearing and then seeing an owl in the woods, is able to shape-shift into an owl himself and fly away leaving an angry Maryann behind. Andy breaks up the orgy and has his arm broken by Terry who is still under Maryann's influence.
In the basement of the Light of Day Institute, Sookie deduces that someone must have tipped off the Fellowship of the Sun about their mission. While at the hotel, Lorena will still not allow Bill to go to Sookie's rescue and flashbacks of Los Angeles in 1935 reveal how Bill struggles with his relationship with Lorena.
Tired of killing innocents, Bill asks to be released from her, even though she tries to convince him that he can overcome his conscience. She reluctantly releases him after he threatens to stake himself.
Outside the church, Eric and Isabel are watching, unaware of the danger Sookie and Hugo are in. Eric asks her what she likes about being with a human and she says it is because their mortality makes everything in life urgent and exciting, but also says it is a sort of "science experiment" to see Hugo age into decrepitude. Isabel accuses Eric of coveting Sookie but he denies being interested in her. In the church, Sarah wants to run off and tell Steve about her and Jason, but Jason convinces her that their duty to God must come first and she agrees to wait.
Hoyt tells Jessica that he is a virgin and she reveals that she is, too. They decide to be each other's first time. Eric and Isabel arrive back at the Hotel Carmilla and Stan confronts Eric about not dealing with the Fellowship more directly. Eric accuses him of murdering Godric to claim his place as Sheriff, which he denies. Eric says he no longer cares if Stan runs into the church to kill them all.
The next morning, Tara and Eggs wake up on Sookie's couch and neither can remember what happened to them after they followed the trail of clothes. Steve and Gabe interrogate Sookie. A claustrophobic Hugo desperately reveals that her last name is Stackhouse and that she is Jason's sister. Deciding that Jason must be a vampire sympathizer, he tells Gabe to take care of it. Gabe drags Jason into the woods to kill him, but he manages to escape after beating Gabe up.
Later Sookie reads a weakened Hugo's mind and it turns out that Hugo is the traitor. His motive is that he realizes Isabel is just using him and vampires take over a mortal's life in the name of loving them.
Sam confronts Daphne at gunpoint at the stream and she explains to him that Maryann is a Maenad, an immortal creature from ancient Greek religion that is a female follower of Dionysus, the Greek god of wine and revelry. They have immense power and Daphne likens her to both God and Satan. Sam asks why Maryann is trying to kill him and Daphne tells him it is because he escaped from her once and that she cannot influence supernatural creatures the way she can with normal people.
Church goers arrive at the Light of Day church for a "lock in" and Steve tells Sarah that he needs to talk to her.
Arlene admits that she blacked out, too, which causes Tara to become suspicious of Maryann. Andy tries to confront Terry at Merlotte's (but he isn't there), raving about "devil-worshipers" and "devil-zombies" who turned Bon Temps into an "orgy from hell". The patrons just think he is crazy, however Sam knows he is telling the truth. At the hotel, Hoyt and Jessica consummate their love. Jason is fleeing the L.O.D.I through the woods when Sarah shows up and shoots him with an unknown weapon.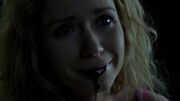 At the stream, Maryann thanks Daphne for her services, kisses her and then uses an entranced Eggs to kill Daphne. Sookie reaches out to Barry telepathically. Barry goes to the hotel with the message, but Lorena still won't let Bill leave. Eric overhears and races for the church.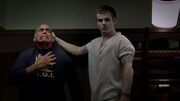 Gabe bursts into the basement, beats up Hugo because he is a "Fangbanger" despite him helping the church and attempts to rape Sookie. At the last second he is pulled off by none other than Godric.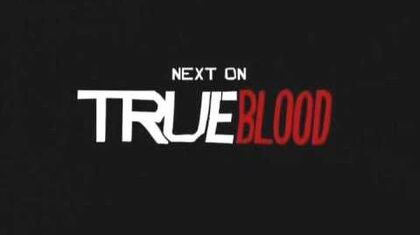 Memorable Quotes
Edit
Memorable Dialogue
Edit
Hoyt Fortenberry: "I've never done it...with a girl I mean."
Jessica Hamby: "What have you done it with?"
Eggs Talley: "I'm Eggs."
Lafayette Reynolds: "Tara's Eggs?"
Tara Thornton: "That just doesn't sound right."
Sam Merlotte: "What the fuck is she?"
Daphne Landry: "She's God, dumb-dumb!"
Steve Newlin: "I know who you're working for."
Jason Stackhouse: "The road crew?"
Arlene Fowler: "What are you doin' in here? It says women on the door!"
Lafayette Reynolds: "So what are you skank hoes doin' in here?"

References
Edit
External Links
Edit
Television without Pity's 21-page recap