Rosie
Talk

0
1,248pages on
this wiki
Mentioned in
{{{Mentioned}}}
Date of birth
{{{Birth}}}
Date of death
{{{Death}}}
Profession
Police operator
Family members
{{{Family}}}
[[:Category:{{{Images}}}|Images]]
Rosie
works at the
Bon Temps Police Station
and is a police operator there who answers 911 calls.
Rosie is first seen when the picture of Drew Marshall is printing and she accidentally covers up the photo while talking to someone over the phone, saying that it was Jason who was the serial killer. ("To Love Is to Bury")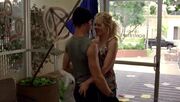 Rosie is under Maryann's control when Jason and Andy Bellefleur go to the police station to get weapons. Jason distracts her while Andy goes and looks for guns. ("Frenzy")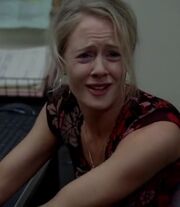 Rosie sent a message over the police intercom to Andy Bellefleur about a drug bust going down in Hotshot. ("Beautifully Broken")
Rosie answers Jason's 911 call after he had tied Felton Norris on a tree and put V in his pockets. When Jason came to the police station the morning after, Rosie told Jason about the 911 call and was distraught because she had sent Kevin Ellis to dispatch it. Rosie had assumed it was a prank call, but Kevin ended up getting sent to the hospital barely alive. ("Everything Is Broken")
Rosie and Deputy Ellis mock Sheriff Andy Bellefleur when a naked picture of him is posted to Facebook. ("Whatever I Am, You Made Me")
Appearances
Edit
Season one appearances
"Strange Love"
"The First Taste"
"Mine"
"Escape from Dragon House"
"Sparks Fly Out"
"Cold Ground"
"Burning House of Love"
"Fourth Man in the Fire"
"Plaisir D'Amour"
"I Don't Wanna Know"
"

To Love Is to Bury

"
"

You'll Be the Death of Me

"
Season two appearances
"Nothing but the Blood"
"Keep This Party Going"
"Scratches"
"Shake and Fingerpop"
"Never Let Me Go"
"Hard-Hearted Hannah"
"Release Me"
"Timebomb"
"I Will Rise Up"
"New World in My View"
"

Frenzy

"
"

Beyond Here Lies Nothin'

"
Season three appearances
"Bad Blood"
"

Beautifully Broken

" *
"It Hurts Me Too"
"9 Crimes"
"Trouble"
"I Got a Right to Sing the Blues"
"Hitting the Ground"
"Night on the Sun"
"

Everything Is Broken

"
"I Smell a Rat"
"Fresh Blood"
"Evil is Going On"
Season five appearances
"Turn! Turn! Turn!"
"Authority Always Wins"
"

Whatever I Am, You Made Me

"
"We'll Meet Again"
"Let's Boot and Rally"
"Hopeless"
"In the Beginning"
"Somebody That I Used to Know"
"Everybody Wants to Rule the World"
"Gone, Gone, Gone"
"Finally"
"Save Yourself"
* - voice only