Mentioned in
{{{Mentioned}}}
Date of birth
{{{Birth}}}
Date of death
{{{Death}}}
Profession
Police operator
Powers
All human abilities
Has shifted into
{{{Shifts}}}
Notable Progeny
{{{Progeny}}}
Notable kills
{{{Kills}}}
Cause of death
{{{Cause of death}}}
Killed by
{{{Killed by}}}
Hair color
{{{HairColor}}}
[[:Category:{{{Images}}}|Images]]
Rosie was a police operator on the HBO original series True Blood. Played by American guest starring actress Tess Alexandra Parker, Rosie makes her debut on the episode "To Love Is to Bury" in the series' first season. A police operator who answered 911 calls for the Bon Temps Police Station, Rosie played a recurring role through the first, second, third, fifth, sixth, and seventh seasons. Rosie met an untimely demise on the episode "Death is Not the End", in the series' seventh, and final, season.
Personality
Edit
Physical Appearance
Edit
Biography
Edit
Background
Edit
Rosie is first seen when the picture of Drew Marshall is printing and she accidentally covers up the photo while talking to someone over the phone, saying that it was Jason who was the serial killer. ("To Love Is to Bury")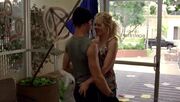 Rosie is under Maryann's control when Jason and Andy Bellefleur go to the police station to get weapons. Jason distracts her while Andy goes and looks for guns. ("Frenzy")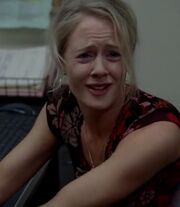 Rosie sent a message over the police intercom to Andy Bellefleur about a drug bust going down in Hotshot. ("Beautifully Broken")
Rosie answers Jason's 911 call after he had tied Felton Norris on a tree and put V in his pockets. When Jason came to the police station the morning after, Rosie told Jason about the 911 call and was distraught because she had sent Kevin Ellis to dispatch it. Rosie had assumed it was a prank call, but Kevin ended up getting sent to the hospital barely alive. ("Everything Is Broken")
Rosie and Deputy Ellis mock Sheriff Andy Bellefleur when a naked picture of him is posted to Facebook. ("Whatever I Am, You Made Me")
Rosie is seen attending Terry Bellefleur's funeral. ("Life Matters")
After attending the human-vampire mixer at Bellefleur's, Rosie is seen hiding in the police car with Kevin when the infected vampires attack. She screams as Kevin is dragged out of the car and taken away. She is one of the few people who survived the Hep V vampire attack and we next see her at Rev. Daniel's church with the rest of the town and survivors. ("Jesus Gonna Be Here")
Finding out that Jason and the others have planned on raiding Fangtasia, Rosie informs the human vigilante group. They arrive in Shreveport, throwing Molotov Cocktails into the club, disrupting the rescue process inside. During the battle outside, Eric takes Rosie and begins feeding from her. Pam, worried her maker is dead, finds him draining Rosie inside a minivan. ("Death is Not the End")
Appearances
Edit
Season one appearances
"Strange Love"
"The First Taste"
"Mine"
"Escape from Dragon House"
"Sparks Fly Out"
"Cold Ground"
"Burning House of Love"
"Fourth Man in the Fire"
"Plaisir D'Amour"
"I Don't Wanna Know"
"

To Love Is to Bury

"
"

You'll Be the Death of Me

"
Season two appearances
"Nothing but the Blood"
"Keep This Party Going"
"Scratches"
"Shake and Fingerpop"
"Never Let Me Go"
"Hard-Hearted Hannah"
"Release Me"
"Timebomb"
"I Will Rise Up"
"New World in My View"
"

Frenzy

"
"

Beyond Here Lies Nothin'

"
Season three appearances
"Bad Blood"
"

Beautifully Broken

" *
"It Hurts Me Too"
"9 Crimes"
"Trouble"
"I Got a Right to Sing the Blues"
"Hitting the Ground"
"Night on the Sun"
"

Everything Is Broken

"
"I Smell a Rat"
"Fresh Blood"
"Evil is Going On"
Season five appearances
"Turn! Turn! Turn!"
"Authority Always Wins"
"

Whatever I Am, You Made Me

"
"We'll Meet Again"
"Let's Boot and Rally"
"Hopeless"
"In the Beginning"
"Somebody That I Used to Know"
"Everybody Wants to Rule the World"
"Gone, Gone, Gone"
"Finally"
"Save Yourself"
Season six appearances
"Who Are You, Really?"
"The Sun"
"You're No Good"
"At Last"
"F**k the Pain Away"
"Don't You Feel Me"
"In the Evening"
"Dead Meat"
"

Life Matters

"
"Radioactive"
 * - voice only
Ad blocker interference detected!
Wikia is a free-to-use site that makes money from advertising. We have a modified experience for viewers using ad blockers

Wikia is not accessible if you've made further modifications. Remove the custom ad blocker rule(s) and the page will load as expected.