Sam was born to shapeshifter Melinda Mickens when she was sixteen years old. Melinda's then-boyfriend, human Joe Lee Mickens, was in prison at the time, so Melinda gave Sam up for adoption. Sam was adopted by the Merlotte family, becoming their only child and son.
Growing up as an adopted child, Sam's life changed dramatically upon his entry into puberty. On the night of a full moon, to the horror of his adoptive parents, a teen-aged Sam revealed the nature of his true heritage by involuntarily shape-shifting into a copy of the family dog. He returned home from school the next day to an empty house (with the exception of his own room); in fear, his adopted family had abandoned him.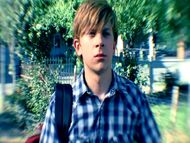 Sam drifted for the next few months, unsure of his new-found ability to shift, but using it to his advantage. Breaking into a rather well-appointed house, Sam discovered a mountain of food on the dining table, and strangely, drawers full of cash. Helping himself hungrily to both, he was soon surprised by the house's resident, Maryann Forrester. She seduced the naive teenager to her bed, but the moment she herself began to display abilities of an otherworldly nature, Sam was terrified and, grabbing his bag of ill-gotten cash, fled into the night.
The specifics are unknown but it is during this time that Sam came into contact with werewolves. Though little is known about these encounters, it is implied that they were unpleasant and has left him with a resentment, even a hatred, toward them.
Sam eventually used his 'borrowed' cash to establish Merlotte's Bar and Grill in the small town of Bon Temps, Louisiana. Local residents took up employment at the restaurant, including Sookie Stackhouse, a waitress, and Lafayette Reynolds, a chef. Sam soon developed a crush on Sookie, but said little about his crush until Bill Compton came into the picture.
Ad blocker interference detected!
Wikia is a free-to-use site that makes money from advertising. We have a modified experience for viewers using ad blockers

Wikia is not accessible if you've made further modifications. Remove the custom ad blocker rule(s) and the page will load as expected.