Sarah Newlin
Talk

0
1,112pages on
this wiki
Sarah Newlin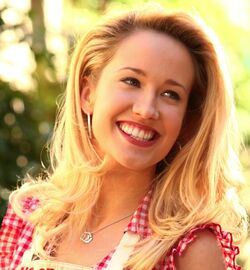 Mentioned in
{{{Mentioned}}}
Date of birth
{{{Birth}}}
Date of death
{{{Death}}}
[[:Category:{{{Images}}}|Images]]
Sarah Newlin is a recurring character in the second and sixth seasons. Sarah was the wife of Steve Newlin, although their marriage has apparently fallen apart. She had a brief affair with Jason, believing it was a sign from God for them to get together.
Biography
Edit
Background
Edit
Little is known about Sarah's family life, her only known family member is her sister, Amber. When vampires first made their existence public, Sarah and her sister marched on Washington to advocate for vampire civil rights. Months later Sarah's sister, Amber, disappeared: she had become hooked on V and the vampires had taken her. She also used to be a vegetarian during her pro-vampire days.
Sarah's opinion of vampires completely changed after her traumatic discovery. Sometime later, whilst working in a hospice, she met Steve Newlin whose father ran the Fellowship Of The Sun church and who was working on destroying the vampire race. Steve and Sarah married, and after her father-in-law's death, the newlywed couple ran the church.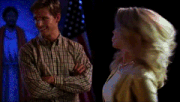 Sarah and Steve live somewhere in the vicinity of, but not in, Dallas. Their home is near the FOTS church. Steve and Sarah welcome Jason Stackhouse as he arrives at the church. She and Steve are shown to be a team and make their decisions together. Their marriage is presented as a strong one.
Over the course of the season Steve and Sarah spend a lot of time with Jason as they are grooming him to command the FOTS army. As Steve becomes more obsessed with killing Godric, he isolates Sarah from control of the church, putting a strain on their marriage. As her marriage began to deteriorate, she began an affair with Jason.
Sarah decided to leave her husband and run away with Jason. However, shortly after the affair began, Sookie attempted to infiltrate the church to find Godric. Then, when Sookie was discovered to be Jason's sister, Sarah thought he was trying to destroy her reputation and the reputation of the church. She shot Jason with a paint ball gun and tried to find out his prerogative.
After she called Jason's family liars and fangbangers, Jason pulled the gun away from her, pushed her over and stole her car leaving her in the woods ("Timebomb"). After Jason told Steve about his affair with Sarah, her marriage began to dissolve. She and her husband could not even keep up appearances in front of the public during a debate with Nan Flanagan. ("I Will Rise Up")
On a show named "Sunday Morning with McCafferty", that hosts a debate about the "Vampire Rights Amendment", it is revealed that the Steve Newlin is divorcing Sarah and is under scrutiny by the IRS. ("I Got a Right to Sing the Blues")
Appearances
Edit