Scratches
Talk

0
1,361pages on
this wiki
"Scratches" is the third episode of Season 2 of the HBO original series True Blood, and the series' fifteenth episode overall.

An outraged Bill tells Sookie in no uncertain terms that she committed a grave error in letting Jessica visit her family. Hurt and upset, Sookie decides to walk the 20 miles home but doesn't get very far when she is attacked by a half-bull, half-man beast leaving huge gashes on her back. When his blood is unable to revive her, Bill turns to Eric for assistance and it's determined she has somehow been poisoned. Both of them are puzzled however by the beast that attacked her and have no idea what they may be up against. Once recovered, Sookie makes a deal for Lafayette's release. Maryann throws a big party but it's all a little too wild for Tara. Sam Merlotte wants to pack it in for a while and leave town. Wild child Jessica goes to Merlotte's bar where she meets Hoyt Fortenberry and they immediately hit it off. New waitress Daphne decides to go for a midnight swim with Sam and reveals something quite interesting.

"Pam,
...those were great pumps."
- Eric Northman, to Pamela Swynford de Beaufort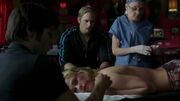 After glamouring Jessica's family and beginning the drive back to Bon Temps, Bill and Sookie argue fiercely about the night's events and Sookie storms out of the car. As she walks off, she is hunted down by a mysterious clawed creature with the head of a bull and the body of a human. It reaches her and viciously slashes her back thus leaving her paralyzed and poisoned. Bill rushes to Eric for help and, with the assistance of a goblin woman named Dr. Ludwig, Sookie is saved. Eric then sends Pam and Chow to the woods to find out what attacked Sookie and when they return, they tell him that it left human tracks but its smell was that of a beast.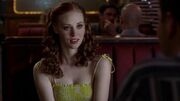 At the Light of Day camp, Jason confesses his true feelings about vampires and bonds further with Sarah Newlin when he lets out some of his grief over his Gran and Amy`s deaths. She reveals to him that she used to be a vampire sympathizer but now suspects they murdered her sister. At Merlotte's, Jessica and Hoyt take a special interest in one another. Sam warns Tara to stay away from Maryann. Later, after snapping at Daphne, Sam decides to take off for a while.
At Fangtasia, Sookie takes Bill's blood to heal and then discovers that Lafayette has been held in the basement. She manages to arrange for his freedom in exchange for helping locate the missing vampire Godric in Dallas.
Tara and Eggs' relationship hits a rough patch at one of Maryann's parties when the guests become strangely sexual with one another, including Eggs and another girl. Bill and Sookie walk in on Jessica and Hoyt making out. Sam and Daphne make peace with one another. The episode ends with the revelation that Daphne's back appears to have deep scratches much like the ones Sookie got when the creature attacked her.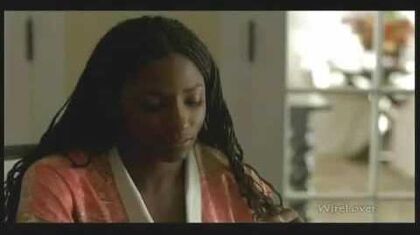 Memorable Quotes
Edit
Eric Northman
Edit
"I thought in over a thousand years I'd seen all there was to see."
"If I want Sookie, I can simply take her."
"Be careful you'll over cook her."
"Pam, those were great pumps."
"And may I add, that color suites you very well."
"Your human is getting cocky."
Memorable Dialogue
Edit
Eric Northman: "It's always a pleasure doing business with you, Dr. Ludwig."
Dr. Ludwig: "F*** OFF!"

References
Edit
External Links
Edit
Television without Pity's 24-page recap