Associations
Stackhouse Family
[[:Category:{{{Images}}}|Images]]
The Stackhouse Home refers to the small, two-story dwelling owned by various members of the Stackhouse family, on the HBO original series True Blood. Currently owned by series' protagonist Sookie Stackhouse, the house was originally built in the 1800s by ancestor Jonas Stackhouse and was passed down to Sookie upon the untimely death of grandmother, Adele on the episode "Sparks Fly Out" in the series' first season. By 2008, it had been mostly rebuilt, apart from a few small rooms, but became vacant of any Stackhouse family member for a month, due to Sookie's trip to Dallas,. Texas Having let her best friend Tara Thornton stay there while she was away, Sookie arrives back to find Maryann Forrester and Eggs Talley living there.
Maryann claimed the house as her own and, slowly, the possessed townspeople began to trash the property. Once Maryann was killed by Sam Merlotte, Sookie took her house back. ("Beyond Here Lies Nothin'") ("Beautifully Broken")
During Sookie's absence, mainly, during the time she spent in the land of the fae, ownership of the Stackhouse Home became under control of vampire Eric Northman. It would eventually be transferred, rightfully, back to Sookie, but not before Eric installs a sleeping cubby.
Occupants
Edit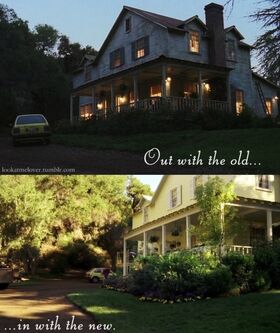 Current Occupants
Edit
Sookie Stackhouse: Sookie has lived in the house since she was six years old. She was absent from the house for a year in Earth time after spending five minutes in the land of Faerie.
Sookie's Husband: His identity is unknown
Previous Occupants
Edit
Notable Visitors
Edit
People who died in and outside the home
Edit
Ad blocker interference detected!
Wikia is a free-to-use site that makes money from advertising. We have a modified experience for viewers using ad blockers

Wikia is not accessible if you've made further modifications. Remove the custom ad blocker rule(s) and the page will load as expected.