Mentioned in
{{{Mentioned}}}
Date of birth
{{{Birth}}}
Has shifted into
{{{Shifts}}}
Notable Progeny
{{{Progeny}}}
Notable kills
{{{Kills}}}
Cause of death
{{{Cause of death}}}
Killed by
{{{Killed by}}}
Hair color
{{{HairColor}}}
[[:Category:{{{Images}}}|Images]]
"I really like you Hoyt and I really want you to taste my biscuits."
―Summer, to Hoyt Fortenberry
Summer is a girl who likes Hoyt Fortenberry. She made food for him and was even willing to have sex with him to close the gap she feels between them. Hoyt has not been serious with her because he still has feelings for Jessica.
Biography
Edit
Summer and Hoyt both go to Merlotte's, and Jessica sees them together. Hoyt told her to order anything she wanted, to make Jessica jealous. ("Trouble") Summer visited Hoyt at Jason's house and brought him homemade biscuits. She came over to tell him that she has feelings for him, and wanted to be his girlfriend, leaving Hoyt mostly speechless. She cleans up the house for him. ("Hitting the Ground")
They both later went to Merlotte's and are seen again together by Jessica. Summer politely introduces herself to Jessica, who inadvertently bears her fangs and leaves embarrassed. Afterwards while sitting down to eat, Summer praises Hoyt for "choosing life," and being with her instead of a dead thing like Jessica. When Summer excuses herself to the bathroom, Hoyt confides in Jessica that he completely hates Summer, bringing up how she never lets him get a word in, and how her pathological love of dolls drives him nuts, giving Jessica cause to question Hoyt "Then what are you doing with her?" to which Hoyt replies it's better than being left alone all day to mourn being apart from Jessica. ("Everything Is Broken")
After leaving Merlotte's, Summer surprises Hoyt by suggesting that they have sex, in order for Hoyt to forget about Jessica. After this Hoyt dumps Summer and returns to Jessica. ("I Smell a Rat")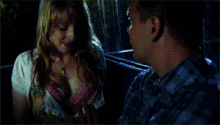 It is then shown later that night that Summer has been conspiring with Maxine Fortenberry all along in order to lure Hoyt back into a life with his mother. ("Fresh Blood") Maxine and Summer have an intervention at Hoyt's work even inviting Hoyt's high school counselor. They both talked about why they wanted him not to be with Jessica, mainly pointing out that she's a vampire. Their plan fails and Hoyt tells her that he wishes that she finds her a good husband, but that he's not him. ("Evil is Going On")
Appearances
Edit
Ad blocker interference detected!
Wikia is a free-to-use site that makes money from advertising. We have a modified experience for viewers using ad blockers

Wikia is not accessible if you've made further modifications. Remove the custom ad blocker rule(s) and the page will load as expected.