Talk:True Blood Wiki
1,086pages on
this wiki
I can't seem to find a Manual of Style on here, so I thought I'd ask how links are done here. I often erase extra links (such as if there is more than one link to the same article on one page), as I feel they make pages look cluttered and dumbed down. Is this something that is done here or is the sentiment towards more links? AlessaGillespie Talk Contributions 05:14, 20 August 2009 (UTC)
Fans Favorite Female True Blood Character
Edit
Jessica is the bomb.
Fan's favorite Male True Blood Character
Edit
Eric Northman. He's gorgeous, sexy, intense, persuasive, and smooth talking.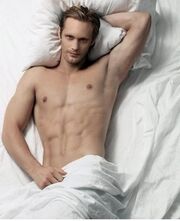 Cro81 22:26, June 25, 2011 (UTC)
I'm liking Sam Merlotte more and more since him and Luna started talking. How he entertained Luna's Daughter, Emma, was just adorable.
Fangfan21, July 21st, 2011
Fan's favorite big-bad character of True Blood
Edit
Eric cause his a bad ass vampire and hes hot
Mary Ann, she was just awesome in personality and humor.