Mentioned in
{{{Mentioned}}}
Date of birth
{{{Birth}}}
Date of death
{{{Death}}}
Profession
Cook
Marine(Former)
Has shifted into
{{{Shifts}}}
Notable Progeny
{{{Progeny}}}
Notable kills
{{{Kills}}}
Cause of death
{{{Cause of death}}}
Killed by
{{{Killed by}}}
Hair color
{{{HairColor}}}
[[:Category:{{{Images}}}|Images]]
Terry Bellefleur is a major character in the second, third, fourth, and fifth seasons of True Blood. He is played by starring cast member Todd Lowe. He initially appeared as a recurring character in the first season. He is an Iraq War veteran and, as a result, is very disturbed by what he did during his service. He works at Merlotte's as a cook. He has numerous physical scars (according to Arlene) as well as psychological scars.
History
Before Season 1
Terry is the cousin of Andy Bellefleur, the sheriff in Bon Temps. Terry served in Iraq, in particular Fallujah, as he references this several times. During his tour of duty, he claimed to have shot and killed 20 Iraqis. He has clear psychological and emotional issues (PTSD) stemming from what he witnessed and did while serving in the war. He is dismissed as crazy by many Bon Temps citizens for his social awkwardness, but those close to him know he is loyal and has a great heart.
Season 1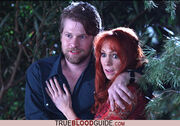 Terry had recently returned from Iraq and was working at Merlotte's Bar and Grill. He had a crush on Arlene Fowler but never told her because she was already in a relationship with René. He often asked Arlene how her day was going and if he could help her in anyway. He was very nice to her and to everyone else, even though most people thought he was strange. After learning of Bill's time as a soldier of the Confederacy during the Civil War, Terry gains respect for Bill; sharing an emotional hug as a fellow soldier, stating: "They don't understand man. None of them will ever understand."
Season 2
Terry had not recovered from his time in war, but he had begun to express his feelings to Arlene. He was a frequent victim of Maryann's mind control orgies as was Arlene. They could never remember the parties, and they were both unsure if they had sex or not making their relationship uncomfortable. However, once they both admitted that they could not remember their time together, they both relaxed and explored their relationship further.
Terry also shows his loving and protective nature in this season. When Andy Bellefleur screams at a freshly traumatized Lafayette, Terry recognizes the fear of another tortured man and defends Lafayette, telling his cousin he was never a bully in their childhood. After Andy leaves, Terry embraces Lafayette on the floor and comforts him.
Terry was a leader in the mob controlled by Maryann. He was almost brought out of his controlled state when Jason Stackhouse threatened to shoot Arlene in the head with a nail gun if they didn't leave Sam alone. He was so overcome with worry for Arlene that he was more interested in protecting her than causing pain. ("New World in My View")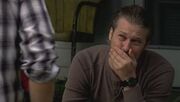 Season 3
Terry thinks Arlene is going to break up with him and becomes upset. Arlene says that she's expecting a child and Terry assumes it's his and becomes excited. He hugs Arlene and thanks her for making his life complete. She fakes a smile, knowing inside that the baby is Rene's. ("It Hurts Me Too") Later on, Arlene confesses to him that her baby is Rene's, and that she fears she is bearing an "evil child". Terry comforts her and vows that they will surround the baby with much love, so that it never can become "evil". Unbeknownst to Terry, Arlene undergoes a ritual with the intention of inducing her own miscarriage. Terry becomes very upset when Arlene starts to bleed and tells him they might be losing their baby. However, Arlene's baby survives, leaving Terry intensely happy and relieved, but Arlene terrified that the fetus survived her induced miscarriage attempt.
Terry also helps Sookie scare away a man stalking her. The two search for clues and find biker shoe prints and wolf prints, followed by a pair of discarded boots and clothes. Worried for Sookie Terry gives her a gun for protection. ("Beautifully Broken")
Season 4
Season 5
Notable skills
As a former U.S. Marine, Terry is trained in the use of firearms, hand-to-hand combat, as well as a variety of military strategics. Unencumbered by his PTSD while under Maryann's control, Terry showed himself to be a natural leader, treating the mob of townspeople as a military unit.
Quotes
"Bullshit! God has horns."
"Three, I ain't never killed nothin on accident."
"'It's not you it's me.' If I had a nickel for every time — I'd have 15 cents."
Image Gallery
| | |
| --- | --- |
| | There is an image gallery for |
Appearances