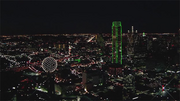 Texas is the second most populous and the second-largest of the 50 states in the United States of America, and the largest state in the 48 contiguous United States. Texas has an area of 268,820 square miles (696,200 km2), and a growing population of 26.1 million residents. Dallas, Texas appears in the second season of True Blood.
Ad blocker interference detected!
Wikia is a free-to-use site that makes money from advertising. We have a modified experience for viewers using ad blockers

Wikia is not accessible if you've made further modifications. Remove the custom ad blocker rule(s) and the page will load as expected.