---
Fairuse
This is a transcription of copyrighted True Blood related media. As such, the copyright for it is most likely owned by the company or corporation that produced it, HBO. It is believed that the use of an episode transcription

for archival and reference purposes for the program and its contents
on True Blood wiki, hosted on servers in the United States by Wikia,

qualifies as fair use under United States copyright law. Any other uses of this transcription might be copyright infringement. For more information, see Wikipedia's page on fair use.
Scene 01 - EXT. Parking Lot - Merlotte's
Edit
Characters Involved
Edit
The Rattrays are taking revenge on Sookie for preventing them from draining Bill. At this point Sookie is outnumbered and beaten badly on the ground. Sookie is already coughing up blood when Mack Rattray is faced with a phantom too fast to be seen. It hits him and he flies backward into a tree. Something had swooped across the night, picking the Rattrays off Sookie. Hands reach down and pull Sookie into their arms.
Transcription
Edit
The second episode of the HBO original series True Blood picks up where we left off, in the deserted parking lot of Merlotte's Bar and Grill, a little after 1:30 A.M. The Rattrays are beating up Sookie.
Mack Rattray: Where's your fuckin' chain now?
(Mack Rattray viciously kicks Sookie in the side! A battered and bloody Sookie cries out in pain.)
Sookie: God!
(Sookie continues to cry out as the Rattrays beat her up. Denise Rattray kicks Sookie in the other side so hard, Sookie rolls over! Then Mack Rattray kicks her again! Denise Rattray gives her a quick kick and then bends down, grabbing her hair.)
Denise Rattray: Dumb-ass ponytail.
(Denise slams Sookie's head into the ground.)
Mack Rattray: Here we go.
(Mack delivers a brutal kick to Sookie's head! Then he rears back and yells. Laughing, Denise grabs him and they kiss, oblivious to Sookie's blood spattered body and gurgling coughs.)
Mack Rattray: I love you.
Denise Rattray: I love you too, baby.
(As they part, an animal begins to growl. The dog begins to bark as Mack turns around and pulls a gun.)
Mack Rattray: Well fuck you, Fido!
(Just as Mack is about to fire, Sookie grabs his legs and a second later, Mack is flying though the air! He hits a tree and falls to the ground at the base of the tree.)
Mack Rattray: What the fuck...?
(There's a whooshing sound as something races toward Mack Rattray. Suddenly, Mack's neck breaks as his head is jerked toward the side. Denise Rattray frantically looks all around.)

Denise Rattray: Show your fuckin' face, freak!

More whooshing sounds are heard, and then Denise screams, as she, also, is flung through the air. She lands in a broken heap amid some trees. Sookie looks over in that direction and sees the dog staring at Denise Rattray as well. The dog turns to look at Sookie, and begins to whimper. As the dog begins to approach Sookie, a man leans down to pick her up.
The scene then cuts to the series' opening credits. The credits are displayed to the tune of "Bad Things" by country singer Jace Everett.
Scene 02 - INT. Sheriff's Office
Edit
Characters Involved
Edit
At the sheriff's station, Jason watches the end of his sex tape with Maudette Pickens in which he chokes her and runs out when he realizes what he's done. He starts to cry watching it, but the tape keeps playing. Maudette opens her eyes and laughs, calling Jason a moron. He's excited to learn he didn't kill her and suggests it was a vampire.
Transcription
Edit
We are now in Sheriff Bud Dearborne's office, in the Bon Temps Police Station -- Sheriff Dearborne, Andy Bellefleur and Jason Stackhouse are all present. They are watching the videotape of Jason and Maudette Pickens having sex at Maudette's apartment. Jason grows more agitated and begins looking more guilty as the tape progresses.
From the tape
(Maudette's wrists are bound to the hook chained to a rafter in the ceiling.)

Jason: It's too bad I don't have fangs.

(Jason slips his hands around Maudette's neck.)

Jason: Rip your fuckin' throat out!

(Jason's hands tighten around Maudette's throat. As the sexual encounter ends, Maudette's body goes limp, supported only by her wrists. Her head is thrown back and sightless eyes stare up at the ceiling.)

Jason: (looking down into her eyes) That was intense, huh? Shit.

(Getting no response, Jason whispers her name and starts to shake her.)
Jason, still seated, can no longer look at the video and hangs his head.
Flashback
(Jason is looking down into Maudette's face.)

Jason: Hey! Maudette ...

(Jason shakes Maudette a couple of times. Getting no response he grabs his head is disbelief.)

Jason: Fuck! Fuck! Oh, Jesus!!!

(He grabs his pants and hurriedly puts them on. Then he grabs his other clothes and runs out the door.)
Jason sits silently in the chair. Looking down, he closes his eyes and shakes his head. Suddenly he hears a sigh. It's from the tape!
From the tape
(Maudette sighs and then begins to laugh as she unties her hands. Grinning, she walks toward the video camera.)
Maudette Pickens: ... a moron!
Jason: (stunned) I didn't ... kill her.
Jason: (laughing with relief) I didn't kill her!
Andy Bellefleur: (sighs) Well, somebody sure as hell did!
Brief cut-away from this scene
Sheriff Bud Dearborne: A vampire?
Andy Bellefleur: You're sure?
Jason: Oh yeah! Yeah, I saw his fangs. Hey! Maudette had fang marks on her inner thigh.
Andy Bellefleur: We know! We examined the body.
Sheriff Bud Dearborne: This be the same vampire your sister's messin' around with?
Jason: Okay, first, my sister ain't messin' around with nobody! My sister don't mess around! And second ... I don't know. I never met the other vampire. I never met any vampire, and I hope to hell I never do!
Andy Bellefleur: What did this vampire on the videotape look like?
Jason: Bald-headed ... weird skeleton tattoo ... and he looked crazy -- crazy out of his motherfuckin' mind!
Andy Bellefleur: It's interestin', because ...um ... this the only videotape we found in Maudette's apartment.
Jason: Well, I guess that means somebody took 'em all, right? Somebody didn't want you to see them?
Andy Bellefleur: Or somebody only wanted us to find this one? Because it supposedly clears him of a crime that maybe he came back later to commit?
Jason: (at first nods, then laughs softly) Aw ... come on, Andy. I'm not that smart!
Scene 03 - EXT. Dark Woods at Night
Edit
Characters Involved
Edit
Bill carries Sookie through the woods to a nearby river to safety. She is in bad shape from the brutal beating and unconscious. She awakes to Bill licking the wound on her forehead. Bill insists that Sookie drink his blood or she may not survive her injuries. He bites his wrist and tells her to drink. She asks if it'll make her a vampire. He says no, but to do it if she wants to live. She drinks, lustily.
Transcription
Edit
We are in the dark woods, at night. Bill arrives near a stream and gently lays Sookie on the ground.
Bill: (softly) Sookie!
(Bill cradles her head as Sookie moans and gasps.)
Bill: Sookie ...
Sookie: I can't feel my legs.
(Bill raises Sookie up and rests her against his knee. He then rolls up his shirt sleeve and takes a big bite out of his own arm!)
Bill: Quick, drink before the wound closes!
Sookie: I don't want to be a vampire.
Bill: You won't be! Goddamn it, Sookie! Do you want to live or not?
(Bill places his bleeding arm on Sookie's mouth. Sookie gulps as she swallows his blood, but then jerks back.)
Sookie: No!
Bill ignores her and presses his arm back against her lips. As she drinks, Sookie loses all reservations. Grasping onto Bill's arm with both of her hands, Sookie greedily drinks the blood that will save her life.
Scene 04 - INT. Tara Thornton's House
Edit
Characters Involved
Edit
Tara comes home to find her mom passed out on the couch with a gossip magazine. The headline stating "Angelina Adopts Vampire Baby". Tara calls Lafayette to come get her.
Transcription
Edit
We are in Tara Thornton's home. It is dark when Tara pulls into the driveway. She enters the house and where a game show is playing on television. Her mother is passed out on the sofa. Tara picks up a near empty liquor bottle and stares at it.
Tara: (under her breath) Oh, Momma ... damn!
Overheard on the television
The scene switches to the inside of Lafayette's car. Lafayette's cell phone rings.
Lafayette: (looking at the incoming number) Hello, Hooker. What's the T?
Tara: Where are you?
Lafayette: I'm on my way to a party in Monroe. And hell, no! I ain't swingin' by to pick your needy ass up, Hooker.
Tara: Lafayette, please. My momma's passed out on the couch, and I ... I can't face cleanin' her up and puttin' her to bed. It's just too Goddamn depressin'.
(Tara fixes a bowl of cereal and eats it while talking to Lafayette.)
Lafayette: What's depressing is how often I get this phone call from you, that's depressing. Why come you won't call Jason Stackhouse?
Tara: You are a mean, nasty bitch.
Lafayette: And you need to move your sorry ass out your momma house, that's what you needs to do.
Tara: Yeah, whatever.
Lafayette: (sighs) Ait ... ait, I is on my way. But you might got to find your own ride home ... just in case I get lucky.
Tara: What you mean if you get lucky? Your standards are so low you always get lucky.
Lafayette: (laughs) Damn straight. Hallelujahs, hallelujahs.
Scene 05 - INT. Dawn Green's House
Edit
Characters Involved
Edit
Dawn wakes up to loud knocking on her door. She opens it to a traumatized Jason. He tells Dawn what happened, looking for comfort and sex.
Transcription
Edit
We are at Dawn Green's house. Someone is knocking incessantly on the door. Dawn exits her bedroom and walks quickly to the front door.
Dawn: Good Lord, I'm comin'!
Dawn: (under her breath) Jesus.
(Dawn opens the door and finds Jason Stackhouse leaning against the door frame.)
Dawn: Jason! What the fuck?!
(Jason walks past her and slowly sinks down on the sofa.)
Dawn: Did I say you could come in? Look Jason, it's 3:00 in the morning.
Jason: You have no idea what I've been through since last night. I spent the whole day thinkin' I'd really killed Maudette Pickens. Dawn: Oh, my God.
Jason: I thought I'd accidentally strangled her during sex. And Bud and fuckin' Andy waited 12 whole hours (bangs fist 3 times on the coffee table) to show me a videotape that proved I didn't do it!
(Jason starts to cry and kneels down next to Dawn. He buries his face against her.)
Jason (distraught) I thought I'd ruined my whole life.
Dawn: (softly) Jason ...
(Jason starts kissing Dawn. She leans back as he becomes more ardent.)
Scene 06 - EXT. Dark Woods at Night
Edit
Characters Involved
Edit
At the riverbank, Bill asks Sookie again what she is. She tells him she can hear people's thoughts, but not his and that she finds it peaceful. She proceeds to tell him she doesn't date as hearing a man's thoughts ruins it. She tells Bill only the people closest to her know about her abilities. As he leans in she says she should be getting home. She notices she has completely healed and Bill says that doctors don't know that vampire blood can do that.
Transcription
Edit
We are in the woods, at night. Bill is licking the blood from Sookie's forehead. He draws away as Sookie regains consciousness and opens her eyes.
Sookie: Do I taste different from other people?
Bill: Yes ... what are you?
Sookie: Well, apparently I'm not dead. What I am is telepathic. I can hear people's thoughts.
Bill: Even mine?
Sookie: No. That's why I like you so much. I can't hear you at all. You have no idea how peaceful it is after a lifetime of ... blah, blah, blah.
(Sookie continues to heal and starts to raise up. Bill helps her move so she is leaning up against a tree.)
Bill: May I ask you a personal question?
Sookie: Bill, you were just licking blood out of my head. I don't think it gets much more personal than that.
Bill: How do you manage a social life with men your own age? Their only thought must be...
Sookie: I don't date.
Bill: Ever?
Sookie: Oh, I've... I've been on a few dates.

Flashback #1
(Sookie sits opposite a young man at one of the booths in Merlotte's Bar and Grill. Sookie is squeezing mustard onto her sandwich.)
Dark-haired guy: (thinking) Man, I can't wait to see her naked. I wonder if she's a natural blond. Nothing worse than a blond with a big, black bush.
(Sookie gets mad and quickly squirts the mustard into the young man's eyes and face.)
Dark-haired guy: (speaking) What the heck?!
Sookie: Not every guy was a pig.
Flashback #2
(A guy in a T-shirt is driving a car and Sookie is sitting in the passenger seat.)
T-shirt guy: (thinking) The kind of girl I could marry and spend the rest of my life lovin'. And never have those thoughts of Matt Damon, Jake Gyllenhaal in Jarhead ... with that Santa hat on.
(Sookie gets mad and jumps out of the car and slams the door!)
T-shirt guy: (speaking) Hey! Where you goin'? What's wrong?
Sookie: (laughs and shakes her head) But ... it always ends up the same.
Bill: There must be some people who know about your talent.
Sookie: The people closest to me. But... we never talk about it. And I do my best to stay out of their heads. Over the years I've learned how. I figure it's kind of unethical to listen in to my family and my friends, my boss. But... they know. Other people suspect or... they think I'm psychic. Most people just think I'm crazy.
Bill: What does it sound like?
Sookie: It's sort of like ... a stream of consciousness. Gets weirder when people are mad, or... upset and... sometimes... sometimes it's just images.
(Bill and Sookie stare at each other. As Bill draws closer, Sookie breaks the building tension.)
Sookie: I should be gettin' home.
Sookie: (as she starts to move around) Wow! I feel completely healed!
Bill: You are.
Sookie: Do doctors know that V-juice can do this?!
Bill: No ... and we wanna keep it that way. I should show you to your car.
Scene 07 - EXT. House Party in Monroe
Edit
Characters Involved
Edit
At a party, Tara sits on a couch by herself while Lafayette, her cousin, works the crowd. A man named Terrell tries to pick her up, but she makes up a story about her husband being a mercenary just back from Iraq.
Transcription
Edit
We are at the party in Monroe that Lafayette was on the way too. The party is in the backyard. There are lights strung up and a number of tables and chairs scattered around. Something is cooking on the grill towards the back. The party is crowded and loud rap music can be heard. Lafayette and Tara arrive at the party and Lafayette starts making his way through the crowd.
Lafayette: How you doin', motherfucker?
Guy in striped shirt: What's up, yo?
Lafayette: (under his breath as he looks around) Sexy ass over there.
Lafayette: (to muscle shirt guy) Hey, baby! Hey, baby!
Muscle shirt guy: Hey big boy! What's up, you?
(A man, in a short-sleeved button shirt, spies Tara sitting on a sofa and sits down in a chair next to her.)
Terrell: What's up, baby? I'm Terrell.
Tara: Tara.
Terrell: Tara! All right, all right, all right, all right. So what's a ... fine girl like you doing sitting here all by herself?
Tara: I'm watching my fool cousin tryin' to hit on the straightest man here.
Terrell: All right. Well, baby, I am the straightest man here.
Tara: Really?!
Terrell: You can just ask any one of these honeys.
Tara: Look, I should tell you. I am married.
Terrell: That's not a problem for me.
Tara: Uh huh well, my husband is a mercenary. Yeah ... black oil. He just got back from assassinatin' some guys in Iraq.
Terrell: Aw you makin' this shit up.
Tara: I wish I was. 'Cause he ain't worth me, I can tell you that, if he ever caught me with another man, he'd kill us both. I'm not sure who he'd kill first. Probably me. I hope so.
Terrell: Bitch, you crazy.
Tara: He already shot one guy in the nuts, just for buying me a CD.
Terrell: Hell, no!
(Terrell gets up and leaves. Tara looks around and doesn't see Lafayette anymore.)
Tara: Fuck! Oh, my God! This how you wanna play?
Scene 08 - INT. Dawn Green's Bedroom
Edit
Characters Involved
Edit
Jason and Dawn have energetic sex.
Transcription
Edit
We are back in Dawn Green's bedroom. Jason and Dawn are having rough sex. At one point, Jason pushes Dawn down on the bed -- her head hangs off the side. There aren't any fang marks on her neck and throat, and her skin is perfect and unbroken.
Scene 09 - EXT. Parking Lot - Merlotte's
Edit
Characters Involved
Edit
Bill and Sookie walk chastely down a moonlit street. He tells her he was made a vampire in 1865 when he was 30 and that he was in the Civil War. She asks him if he'd speak to her grandmother's group. He asks her if it would make her happy to which Sookie replies yes. He asks again to call on her. As she's off work tomorrow, she'll see him just after dark. Bill disappears.
Transcription
Edit
Bill and Sookie have reached the deserted parking lot at Merlotte's Bar and Grill. There's a dusk to dawn light that illuminates part of the area.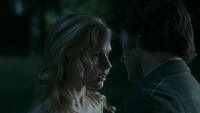 Sookie: How old are you? Am I allowed to ask that?
Bill: I was made a vampire in 1865, when I was 30 human years old.
Sookie: Wow! You look older than that.
Bill: Life was harder then.
Sookie: Were you in the Civil War?
Bill: I was.
Sookie: Would you be willing to come, talk to my grandmother's club? It's... mostly a bunch of old people who had family in the war. They call themselves the Descendants of the Glorious Dead.
Bill: The Glorious Dead? There is nothing glorious about dying in a war. Bunch of starvin', freezin' boys -- killin' each other so the rich people can stay rich ... madness.
Sookie: I'm sure it was awful.
Bill: Would it make you happy if I did this?
Sookie: Oh, it would make my grandmother ecstatic.
Bill: Would it make you... happy?
Sookie: Well ... yes.
Bill: I'll do it then. And look forward to meetin' your grandmother. When may I call on you?
Sookie: I'm off work tomorrow.
Bill: Just after dark then.
(They reach Sookie's car. Sookie looks down at her keys, turns and notices a light burning in Sam's trailer.)
Sookie: Huh ... Sam's still up.
(Sookie looks back toward Bill, but he's gone. She looks around but doesn't see him anywhere.)
Sookie: Well, that's creepy.
Scene 10 - INT. Dawn Green's Bedroom
Edit
Characters Involved
Edit
Jason wakes up in bed next to Dawn, who now has her shirt off. He sees bite marks on her chest and isn't happy about it.
Transcription
Edit
We are back in Dawn's bedroom. The morning light shines through the window. Jason wakes and glances over at Dawn, who is sleeping soundly. His eyes travel to her neck -- he leans in closer and sees vampire bite marks. Jason lays his head back on the pillow -- deep in thought.
Scene 11 - INT. Adele Stackhouse's House
Edit
Characters Involved
Edit
Sookie watches a shouting news program between a reverend and a woman from the American Vampire League. Her grandmother comes in and they decide Jesus wouldn't mind if someone was a vampire. Sookie eats sausage, tasting more flavors in it than usual. She describes being able to taste the grass of the farm not realizing it is the vampire blood making her taste buds so sensitive and her grandmother gives her a strange look. Tara comes in, demanding info on her vampire date. Jason also comes in in time to hear grandma's news: a tornado turned over a trailer, the one where the Rattrays lived. They were crushed to death.
Transcription
Edit
We are now in the home of Adele (Hale) Stackhouse aka "Gran" -- Sookie and Jason's grandmother. Sookie is sitting at the kitchen table watching a commentary program on the television.
Playing on the television via the TBB Network
(Sookie, using the remote control, turns off the television as Gran enters the kitchen.)
Sookie: I don't think Jesus would mind if somebody was a vampire.
Gran: I don't either, honey.
(Sookie takes a bite of sausage as Gran puts scrambled eggs on the plates.)
Sookie: Is this sausage different from what you usually make?
Gran: No.
Sookie: Huh ... it tastes so much more complex than it usually does.
Gran: Oh, dear, you think it's gone bad?
Sookie: No, it's delicious! It's like I can close my eyes and I can see the farm the pig lived on, and feel the sun and the rain on my face, and even taste the earth that the herbs grew out of.
(Gran looks at Sookie strangely. The door squeaks as Tara walks in.)
Tara: Hey, Miss Stackhouse.
Gran: Good morning, Tara.
(Tara is standing at the counter about to pour a cup of coffee when Gran goes over and gives her a kiss on the cheek.)
Gran: No, you sit down. I'll make a new pot.
Tara: All right.
Sookie: (to Tara) You look awful.
Tara: Yeah ... and I feel even worse.
(Tara starts to say something ...)
Sookie: Yes, you can take a shower here.
(Tara starts to say something else ...)
Sookie: And you can borrow some of my clothes.
Tara: (smiling) Thanks. Any news about Jason?
Sookie: Yeah, we heard from Evalee Mason already. They let him go last night.
Tara: I knew they would.
Sookie: I didn't.
Tara: Well, I'm glad to see you're still alive. You obviously did not hook up with that vampire last night.
(Sookie doesn't answer but looks downward.)
Tara: (sighs in exasperation) Sookie, sometimes you are just plain dumb.
Sookie: Shut up!
Sookie: (lowering her voice) Lucky Gran was already in bed when I got in last night.
Tara: Did he bite you?
Sookie: No!
Tara: Are you sure? 'Cause you know they can hypnotize you.
Sookie: (whispering sarcastically) Yeah, and black people are lazy, and Jews have horns.
(Gran comes back into the kitchen with a bag of coffee.)
Tara: You must be glad they let Jason go, huh Miss Stackhouse?
Gran: Oh, I can't even believe that they arrested him to begin with. I have a good mind to call Bud Dearborne and chew him out. Jason's a good boy! Everybody knows that.
(The phone rings.)
Gran: Hello!
(Silence)
Gran: Oh! Hey! Evalee!
(Gran takes the phone and walks into the other room.)
Sookie: I'm sorry I was such a bitch to you last night.
Tara: Well, I'm sorry I been actin' like I'm your mother. I just worry about you, Sookie. You're basically my only friend.
(The door squeaks again and Jason walks in.)
Jason: Am I too late for breakfast? Hey Tara!
Tara: (gushing) Hey! Hey Jason! I'm so glad they didn't lock you up.
Jason: Uh yeah! Me too. I don't even know why they suspected me. I think somebody heard I'd been with Maudette.
Sookie: Had you?
Jason: No.
Sookie: Are you sure? She was a woman.
Jason (sighs) That's funny. At least she was human.
(Gran hurries back into the room.)
Gran: You will never believe what happened! Oh Hey! Jason.
Jason: Hey, Gran.
Gran: Sit down. I'll fix you breakfast.
Sookie: What happened?
Gran: Well, apparently, a tornado touched down over at Four Tracks Corners. It turned over that rent trailer in the clearing. You know the one?
Sookie: Uh huh.
Gran: Oh ... and it killed that couple that's been staying in there.
Jason: Mack and Denise Rattray?!
Gran: They were trapped under the trailer. Mike Spencer said they were crushed to a pulp.

Scene 12 - EXT. Clearing at Four Tracks Corners
Edit
Characters Involved
Edit
Sookie drives over to the trailer. The trailer is demolished. A van pulls up with sheriff Bud Dearborne and coroner Mike Spencer, the one who buried her parents. The sheriff tells her he has heard she didn't like the Rattrays much. He also informs her about the vampire living in the old Compton house across the field from her house and no one heard anything like a tornado.
Transcription
Edit
We are at a clearing at the Four Tracks Corners. Sookie drives to the Rattrays rented trailer. There is crime scene tape, placed to cordon off the site. Sookie ducks underneath the tape to get a good look at the destruction. A van pulls up and Sheriff Bud Dearborne and another man, wearing a vest marked "coroner", get out and walk toward Sookie.
Coroner: Well! Sookie Stackhouse! What are you doing here?
Sheriff Bud Dearborne: Sookie ... You know Mike Spencer?
Sookie: Of course! You buried my parents.
Mike Spencer: (laughing) Yep! My new job ... parish coroner, but I still run the funeral home.
Sookie: Well! That's gotta be convenient.
Sheriff Bud Dearborne: Sookie, this is still a restricted crime scene. Why are you here?
Sookie: Oh, when I heard what happened, I just had to come look. What an awful thing.
Sheriff Bud Dearborne: You know, I did hear you weren't too fond of the Rattrays.
Sookie: Where'd you hear that?
Sheriff Bud Dearborne: My niece is the emergency room nurse in Monroe. Says somebody busted up old Mack pretty bad last night.
Mike Spencer: Everybody says that somebody was you!
Sookie: (to Mike Spencer) Well, they were hurtin' a friend of mine!
Sheriff Bud Dearborne: This be that vampire I been hearing about? The one who is livin' at the old Compton house?
Sookie: The old Compton house? Just across the field from where I live?
Sheriff Bud Dearborne: That's the one.
Mike Spencer: Your grandmother lets you associate with a vampire?
Sookie: You can take that up with her, Mike Spencer! I'm sure she'd just love to know that somebody thinks she's not taking proper care of me!
Sookie: (to the sheriff) The Rattrays were draining him. Draining vampires is against the law, isn't it? I was simply doing my civic duty by stopping them.
Sheriff Bud Dearborne: And now they're dead!
Sookie: Yeah ... killed by a tornado.
Sheriff Bud Dearborne: Tornadoes hop! This one didn't land anywhere else. And nobody around here heard or saw anything like a tornado last night.
Sookie: Are you telling me you seriously think one man could do all this?
Mike Spencer: He's not a man.
Sookie: They're really not that different from you and me, if you bothered to try to get to know one ...
Sheriff Bud Dearborne: Sookie! You're a good girl. I hate to see you go down this path.
Sookie: Well, lucky for you, Sheriff Dearborne, nobody's forcing you to watch! Now, if y'all two rednecks will excuse me, I've gotta go!
Scene 13 - INT. Adele Stackhouse's Living Room
Edit
Characters Involved
Edit
Sookie comes home to her grandmother cleaning. She smells rotten food and finds a tiny crumb under the chair, again through her heightened senses from drinking the vampire blood. Gran tells Sookie that Jason and Tara insisted in coming over that night to meet the vampire, too.
Transcription
Edit
We are back in Gran and Sookie's house. Gran is vacuuming the floor in the living room when Sookie arrives back home.
Sookie: You know, he sleeps in the ground all day. I don't think he's gonna even look at the rug.
Gran: I ... I'm not doing this for him. I'm doing this for me, so I can be proud of my home. And how do you know where he sleeps?
Sookie: I don't, actually.
Sookie: What's that smell?!
Gran: What smell?
Sookie: It smells like rotten food, or something. You can't smell that?
Gran: Well, find it.
(Sookie starts looking around. She's moves a piece of furniture and finds a small piece of food.)
Sookie: You can't ... smell this? I better just throw this out.
Gran: Oh! Sookie.
Sookie: Yeah?
Gran: Jason and Tara are coming over this evening as well.
Sookie: Gran.
Gran: Well, they invited themselves. Jason said that he wants to meet the vampire for himself, and Tara said she thought she ought to be here as well.
Sookie: I don't know why everyone's getting their panties in a wad about some stupid vampire?!
Gran: Did you want to be alone with him?
Sookie: I don't know ... maybe. Aren't you gonna tell me to be careful?
Gran: You're always careful, Sookie, about what counts. And I can depend on that. Isn't that right?
(Sookie nods her head and leaves the room. Gran stares thoughtfully after her for a minute, and then resumes vacuuming.)
Scene 14 - INT. Adele Stackhouse's Kitchen
Edit
Characters Involved
Edit
Later Bill sneaks up to Sookie on the porch. She has to invite him in before he can enter. Sookie asks if she withdrew the invitation, Bill would have to leave to which he answers yes. She muses out loud that she would have to keep that in mind. She invites him in.
Transcription
Edit
We are back in Gran and Sookie's house. Gran, Jason, Tara and Sookie are in the kitchen.
Jason: Look, I'm just sayin'. Do you want a vampire suckin' blood out of you?
Sookie: I'm just tryin' to get to know the man, that's all.
Jason: 'Cause that's where it's gonna end up... always does.
Sookie: What do you know about vampires, anyway?
Jason: Yeah, I know a lot more than I care to.
Sookie: Oh please, Jason! You ain't even got enough sense to pour piss out of a boot.
(Sookie gets up and leaves the kitchen.)
Tara: That's my beer. You asked if I wanted anything to drink, and I said I'd have a beer. And that's when you went to the fridge.
Jason: Oh, my god, I'm so sorry. Here.
Tara: It's okay.
(Sookie is sweeping the front porch. She turns around startled because Bill is suddenly there.)
Sookie: Bill I ... I don't like it when you do that.
Bill: I've upset you.
Sookie: Well ... well, since you're here.
(Sookie turns to go into the house, but Bill does not follow her.)
Sookie: What's wrong?
Bill: You have to invite me in. Otherwise it's physically impossible for me to enter a mortal's home.
Sookie: Seriously? Well, come on, try.
Bill: I ... I can't. I can't even try.
Sookie: That is so weird. Oh, Bill, won't you please come in?
Bill: Thank you.
Sookie: So, if I were to withdraw my invitation, would you have to leave? (Bill nods his head yes.)
Sookie: Well, I'll have to remember that.
(Bill walks past Sookie into the house.)
Scene 15 - INT. Adele Stackhouse's Living Room
Edit
Characters Involved
Edit
As he greets everyone, Jason stuffs his face and stares him down. Bill talks about where he's from. He says he came back because the last of his Compton line died and he's living in their old place. He says he expects the Vampire Rights Amendment to pass. Jason gives him some vampire prejudice. Tara asks if he owned slaves. He didn't, but his father did. Bill charms Gran with stories of the olden days. He asks Sookie to go for a walk. Jason tries to forbid her, but Gran shuts him down.
Transcription
Edit
We are still in Gran and Sookie's house. Jason, Tara, Bill and Sookie are seated in the living room. Gran is walking around with a tray of food, offering sandwiches to everyone. She extends the tray toward Bill who just shakes his head.
Gran: (embarrassed) Oh, my stars. Of ... of course. You ... you don't... I... I'm sorry.
(Gran sets the tray down and then takes a seat.)
Gran: Your people, Mr. Compton, they were from this area ... I believe?
Bill: Yeah, my father's people were Comptons, and my mother's people were Loudermilks.
Gran: Oh, there are a lot of Loudermilks left. But I'm afraid old Mr. Jesse Compton died last year.
Bill: Yes, ma'am. That's why I came back to Bon Temps. There were no living Comptons so I've set up home in the old Compton place. And as I expect the VRA to pass...
Jason: Yeah, I wouldn't be too sure about that if I were you. A lot of Americans don't think you people deserve special rights.
Bill: They're the same rights you have.
Jason: No, I'm just saying there's a reason things are the way they are!
Bill: Yeah ... It's called injustice.
Jason (growing angry) Listen, it's called, "this is how we do it!"
Gran: Jason! This is my house. I will not tolerate rudeness!
(Jason grows quiet and leans back into his chair. Gran composes herself and smiling, turns to Bill.)
Gran: Did you know the Stackhouses, Mr. Compton?
Bill: Yes, uh ... I remember Jonas Stackhouse. He and his wife moved here when Bon Temps was just a hole in the road. I was a young man of 16. Isn't this the house he built? I mean, at least in part?
Gran: Yes, it was!
Tara: Did you own slaves?
Sookie: (perturbed) Tara!
Bill: I did not, but my father did. A house slave, a middle-aged woman whose name I cannot recall, and... and a yard slave ... a young, strong man named Minus.
Gran: Oh, this is just the sort of thing my club will be so interested in hearing about.
Tara: About slaves?!
Gran: Well ... about ... anything having to do with that time.
Bill: I look forward to speaking to your club, Mrs. Stackhouse. Now, if it's all right with you, I thought that Sookie and I might take a walk. It's such a lovely night.
Gran: Well ... it's all right with me if it's all right with Sookie.
(Jason quickly puts his beer down on the table and stands up facing Bill.)
Jason: I don't think that's a good idea.
Sookie: I don't think it's any of your business!
Gran: She's right, Jason.
Jason: Look, Gran, I am the man in this family.
Gran: You are a man in this family, but I am the oldest person here and this is my house. You better respect me, boy!
Bill: Actually ... I'm the oldest person here.
(Gran smiles and laughs. Then Bill addresses Sookie.)
Bill: Shall we?
Sookie: We shall.
(Sookie takes Bill's extended hand and the two of them leave, but not before Bill gives Jason a dark parting look, which makes Jason take a step backwards.)
Jason: Well, thanks for making me look like a fool in front of him, Gran.
Gran: Oh Jason, you don't need any help looking like a fool.
Scene 16 - EXT. Adele Stackhouse's House
Edit
Characters Involved
Edit
Outside, Sookie tells him she went to the Rattrays' trailer. He says that vampires get stronger over time and learn to cover their tracks. She asks if he ever killed anyone. He admits to doing so but only by accident. He says he fed on the Rattrays because Sookie drank a lot of his blood. She asks what it'll do to her. He says she'll have heightened senses, a stronger libido, and he'll be able to sense her, especially if she's in trouble.
Transcription
Edit
We are now outside, near Gran and Sookie's house. Bill and Sookie are taking a walk together.
Sookie: I went to the Rattrays' trailer.
Bill: I told you I was strong.
Sookie: I don't believe I fully gauged the extent of your strength.
Bill: Over the years, we become stronger, and more skillful of hiding what we've done.
Sookie: You might want to remember for next time -- tornadoes hop, they don't just land in one place. So ... I guess you've killed a lot of people.
Bill: I killed a few by accident at first. I was never sure when I was gonna get my next feed. But it's all different now. There's Tru Blood. I can get donor blood from a clinic in Monroe, or I can glamour someone into letting me feed on them for love, and then they'll forget all about it.
Sookie: Did you feed on the Rattrays?
Bill: Yes, after I'd given you my blood, while you were healing. You drank a lot of my blood.
Sookie: What will that do to me?
Bill: Well, you'll ... have keener senses.
Sookie: What else?
Bill: Your libido will be more active.
Sookie: Is ... Is that it?
Bill: I'll always be able to feel you. I'll be able to find you fast. If you're ever in trouble, that could come in quite handy.
Sookie: You're gonna have to give me a minute here, Bill. I'm feeling a little overwhelmed.
Bill: Of course.
Scene 17 - INT. Adele Stackhouse's Living Room
Edit
Characters Involved
Edit
At the house, Tara cozies up to Jason, talking about wanting to be seen and to matter. They snuggle on the couch. Just then, Jason remembers he was supposed to pick up Dawn from work.
Transcription
Edit
We are back in Gran and Sookie's house. Jason is sprawled out on the sofa in the living room. Tara enters and hands Jason a beer. Jason moves aside and Tara sits down next to him.
Tara: I don't know why your grandmother was so short with you. You're just tryin' to protect Sookie.
Jason: I hate it when people treat me like I ain't got a lick of sense. Like I'm still just a kid or ... I don't know ... in the way.
Tara: I know what that's like.
Jason: It sucks, that's what it's like.
Tara: You feel alone in the world ... like nobody understands you, or ... or even sees you.
Jason: Yep! It sucks.
Tara: That ain't right ... because everybody is, you know, somebody.
Jason: What?
Tara: We're all just trying to be... trying to be seen to... to matter.
Jason: Yeah ... Wow! You're right. How'd you get to be so smart?
Tara: I'm not smart at all, Jason. I'm not. I am constantly doing things I shouldn't and end up getting me in trouble.
Jason: Yeah ...
Tara: I'm a fucking idiot sometimes.
Jason (laughs) Well, can I tell you a secret? I am too.
Tara: It's not that much of a secret.
Jason: What? ... What? ..."Not that much of a secret."
(Jason grabs Tara -- both of them are laughing and Tara snuggles next to him. They both become quiet.)
Jason: Shit!
Tara: Hmm?
Jason: I was supposed to pick up Dawn from work. Goddamn it! She gonna be all pissed.
(Jason gets up to leave. Tara, now sad, remains seated on the sofa.)
Jason: (as he walks out the door) Good night, Gran.
Gran: (from the other room) Night, Jason. Drive careful.
Tara: (laughing and under her breath) Well, shit!
Scene 18 - INT. Adele Stackhouse's Living Room
Edit
Characters Involved
Edit
Walking through the Bon Temps graveyard, Bill tells Sookie about glamouring people which is sort of like hypnosis. She wants him to try on her. She goads him into it. He looks deep into her eyes, trying to take hold of her thoughts. She busts up laughing. He has no effect on her and this clearly bothers him for he has never been unable to glamour a human. Usually people are more squeamish about vampires, he says. Sookie rhetorically asks who she is to be squeamish about something out of the ordinary. She flashes back to her childhood, hearing her mom's thoughts as she worries about bills and then getting talked to by a teacher who is resolved to disprove Sookie can read minds.
She hears her mom's anxious thoughts about her, being scared by her. She tells Bill they diagnosed her with ADD. He asks when she lost them. When she was eight, she answers, in a flash flood. He talks about losing his wife and children after he turned. She quizzes him about his skills. He can't levitate, change form or turn invisible, he says. As they stare deeply at each other, Sookie lets her hair down. He nuzzles her neck and soon they kiss.Suddenly Bill pushes her away, his fangs out. He tries to calm down and says he'd better walk her home.
Transcription
Edit
Bill and Sookie are still on their walk. They are passing by the Bon Temps Cemetery.
Sookie: You said you could glamour somebody into letting you bite them? What is that, hypnosis?
Bill: Kind of. It's similar. All humans are susceptible to it.
Sookie: Have you done it to me?
Bill: No ... and I never will.
Sookie: Really? Try it.
Bill: No. I don't feel comfortable with that.
Sookie: You chicken?
(Bill stops walking and concentrates. Then he looks into Sookie's eyes, drawing closer and closer.)
Bill (whispering) Sookie ...
Sookie: (whispering) Yes ...
Bill: Can you feel my influence?
Sookie: (laughs) No, not a bit. Sorry.
Bill: Well, Sookie, this is very strange.
Sookie: You don't like not being able to control people, do you? It's not a very attractive trait, Bill.
Bill: Humans are usually more squeamish about vampires than you are.
Sookie: Who am I to be squeamish about something out of the ordinary?
Flashback with parents
(A young girl and boy are running through the sprinkler, laughing and playing.)
Mother: Sookie! Jason! y'all get out of the water now.
(Sookie runs up and sits on a blanket close to her mother, who is seated in a lawn chair. Her father is a little further up the hill, raking leaves.)
Mother: (thinking) How can our car insurance go up so much after just one ticket? Damn it all to hell, I hate having to ask my mother-in-law for money again.
Sookie: Damn what all to hell?
(Both mother and father quickly look at Sookie.)
Sookie: I can break open my piggy bank if you need some money.
Father: Sookie! Who told you we need money?
Sookie: Mama.
Mother: Corbett, I swear, I haven't spoken a word.
Flashback with psychologist
(Little Sookie is seated at a table in a classroom. The only other person in the room is a woman psychologist.)
Psychologist: Do you know why you're here? Your parents, they're concerned about something that can't possibly exist. But you and I are gonna put all this silliness to rest today. Now, can you tell me what I'm thinking?
Psychologist: (thinking) I'm thinking about the color red and the number 9.
Sookie: The color red and the number 9.
(The Psychologist gets a frightened look on her face and stares at Sookie.)
Flashback with parents
(The family is having a picnic. Sookie and Jason sit across from their father. Their mother is walking toward them carrying some food.)
Mother: The psychologist thinks that Sookie just reads our body language and is highly observant. That's all.
Father: Well, that's a relief.
Father: (thinking) That's bullshit!
Mother: Isn't it?
Jason: (talking with his mouth full of food) What's body language?
Mother: (thinking) Why was that doctor so scared? Because she was lying to me, that's why. Because there is something to be scared of inside my little girl. Oh, my God. She knows everything I'm thinking! Oh, sweet Jesus! What do I do?! Poor child. She can't ...
(Sookie's mother gets up from the table and walks away. Sookie stares after her.)
Sookie: I was diagnosed with ADD. They tried to put me on drugs but my mama wouldn't let them. She knew that wasn't it. She tried to protect me ... even though I scared her.
Bill: When did you lose her?
Sookie: Just before I turned 8 ... both my parents ... flash flood.
Bill: I lost my wife and my children -- everyone I knew from my human life. Most of them are buried here in this cemetery.
Sookie: You really don't consider yourself human at all?
Bill: I'm not human.
Sookie: Can you turn into a bat?
Bill: No. There are those who can change form, but I'm not one of them.
Sookie: Can you levitate?
Bill: No.
Sookie: Turn invisible?
Bill: Sorry.
Sookie: Well, Bill! You don't seem like a very good vampire. What can you do?
Bill: I can bring you back to life.
(Bill walks past Sookie. After a minute, she follows him and sees a house.)
Sookie: This is where you live?
Bill: Since old Jesse Compton had no living heirs when he died, ownership reverts back to me.
Sookie: I thought that wasn't for sure unless the VRA passes.
Bill: Well, I haven't been getting in any trouble with the renovations I've been doing. Although of course I've been doing it myself in the night. I need an electrician, but I can't get anyone to return my calls.
Sookie: Maybe if I made a few calls tomorrow, I could come by after work and tell you who to contact.
Bill: Thank you.
(Bill stares at Sookie standing in the moonlight.)
Bill: Take your clip out.
(Sookie removes her hair clip and her tresses fall to her shoulders.)
Bill: May I?
(Sookie nods and Bill slowly takes her hair in his hands. Then he leans forward and takes a deep breath.)

Bill: (softly whispers) I can smell the sunlight on your skin.
(Sookie and Bill kiss passionately. Bill pushes Sookie away and turns from her -- his vampire teeth extended.)
Bill: (breathing is ragged) I should see you home.
Sookie: All right.
Scene 19 - INT. Dawn Green's House
Edit
Characters Involved
Edit
Jason lays tied up in Dawn's bed as she gets ready for work. He quickly realizes she plans to leave him like that.
Transcription
Edit
We are back at Dawn's house. Jason's truck is parked outside. It's daytime and Dawn is getting ready for work.
Jason: What's the matter, baby? Don't you like me?
Dawn: Oh, sure, I like you, Jason. I wouldn't tie any ol' man up to my bed.
Jason: (laughs softly) So call in sick. Sam won't mind.
Dawn: One, Sam would mind, and two, we've had sex, like, three times today. At this rate, we're gonna burn out by the end of the week. And then you're gonna get all weird and closed-off, and I've already been down that road with you, baby.
(Dawn finishes putting her make-up on and then snuggles up to Jason, who is tied to the headboard of the bed.)
Jason: But I'm horny.
Dawn: Well, I'll be back by midnight.
Jason: Hey! You're not... You're not leaving me here like this.
Dawn: You just better be happy that's all I'm doing to you, baby.
Jason: What?
(Dawn kisses Jason.)
Jason: What?
Dawn: You can just think of it as foreplay.
(Dawn gets off the bed and leaves the bedroom.)
Jason: Foreplay my ... Dawn!
(The front door bangs closed.)
Jason: Okay, this ain't funny, Goddamn it!
(A car door closes and the engine starts.)
Jason: (struggling) Goddamn it! Dawn!
(Jason pulls on the scarves that bind him to the headboard, but they don't loosen.)
Jason: Fuck! Bitch!

Scene 20 - INT. Merlotte's Bar and Grill
Edit
Characters Involved
Edit
At the bar, a woman orders another drink from Tara, who tells her off and then talks her way out of wearing a uniform.
Sookie waits on four rude guys who think lewd things. A road crew guy runs them off. Sam asks to talk to Sookie in his office and asks her about reading people's thoughts. He says she should read his sometime. She says she doesn't want to. she's had to quit every job she's ever had because she could read her boss' thoughts. Tara asks Dawn about Jason, in a way that doesn't come across as completely innocent. Sookie sees something on the news about the anti-vampire reverend Theodore Newlin and his wife having been killed in a car accident.
Transcription
Edit
We are back in Merlotte's Bar and Grill. The place is crowded tonight. Dawn calls out a greeting to a customer on her way to the food order counter while Terry Bellefleur carries a case of Corona behind the bar. Tara is tending bar and an older woman is sitting at the bar who calls out to Tara.
Jane Bodehouse: Hey, sugar. Make momma another stinger, would you?
Tara: You listen to me, Jane Bodehouse. You're already drunk as a skunk. Ain't no man in here gonna wanna take you home. Sam will have to call your son to come and get you just like he always does, even though everybody knows it humiliates him to death. Ain't you ashamed of yourself?
Jane Bodehouse: What'd you just say to me?
Tara: I said any particular brand of cognac?
Jane Bodehouse: Ah ... no ... whatever you have that's nice and cheap.
Sam: Tara, I told you where you could buy your uniform.
Tara: Sam, how come you don't wear a uniform?
Sam: Because I own this place and wear what I want.
Tara: Well, how come Terry Bellefleur don't wear a uniform?
Sam: Because ...
Terry Bellefleur: I've spent enough time in uniforms.
Tara: No! ... because you're a man! And Sam don't feel the need to sexualize the men in his employment the same way he do the women.
Sam: Okay ... you don't have to wear a uniform.
Tara: Thank you.
Sam: Remind me why I hired you again.
Tara: Affirmative action.
(Tara sets Jane Bodehouse's drink down in front of her as Sam walks toward the back room. Across the room, Sookie is waiting on a table of three guys.)
Sookie: Loaded skins and a pitcher of Bud. Is that it for y'all?
All three guys: Yes
First guy: (thinking) Yes, if you serve them nachos off them perfect titties, we'd all be mighty obliged. Ain't nothing I like more than lickin' food off...
Sookie: Okay then ...
(Sookie turns to leave.)
First guy: (thinking) That's a fine ass too.
(Then he reaches over and grabs Sookie's butt. As fast as lightning, René appears out of no where and has the guy in a arm lock with his face pinned to the table.)
René Lenier: You wanna let go of the lady, you? Or you want me to knock you into next week?
First guy: Damn it, you're about to break my arm.
René Lenier: Apologize.
First guy: Sorry.
(René lets the guy go and steps back a little.)
René Lenier: Maybe you and your friends should find someplace else to eat, yeah.
First guy: (quietly) Let's go.
(The three guys get up to leave. The second guy gives René a parting look.)
René Lenier: Don't look at me, you.
Sookie: René, you should have let me handle that myself.
René Lenier: Merlotte's is a nice place. And we all want to keep it that way. And besides, you remind me of my baby sister, you. I hope to God that somebody will stick up for her if some asshole ever does her that way.

(Sookie, flustered, laughs quickly, then turns and walks back toward the food counter area. René watches her walk away and then grabs the pitcher of beer off of the three guys' table.)
Sookie: Arlene, would you tell René thank you for helping me out with those jerks tonight? I was so flustered I think I might have seemed ungrateful.
Arlene: (thinking) Please let me get my period tonight. Even though René wants one of his own, but I sure don't want him to feel like he's being forced...
(Sookie rushes over to Arlene and gives her a big hug.)
Arlene: (speaking) Did you just read my mind?!
Sookie: Sorry. I'm not very focused tonight.
Arlene: My private thoughts are none of your business!
(Arlene quickly walks away.)
Sam: Sookie. Wanna step into my office?
(Sookie follows Sam into his office. Sam leans against his desk, while Sookie sits opposite him.)
Sookie: I swear I try not to listen, but ... I can't always keep my guard up.
Sam: Is it true you can't hear the vampire's thoughts at all? God, that's... I mean, that must be very relaxing for you. You know, not havin' ... to work so hard not to hear.
Sookie: (nods head) No ... yes.
Sam: Can you hear me?
Sookie: I don't want to hear you.
Sam: Why not?
Sookie: I'd have to quit if I read your mind and I like it here.
Sam: You don't have to quit.
Sookie: Sam, I've had to leave every job I've ever had because I could hear my boss' thoughts.
Sam: You might be surprised by what you find.
Sookie: Not all surprises are good.
Sam: Try some time ... listen, don't you worry. You got a job here as long as you want one.
Sookie: I should get back to work.
(Sookie quickly leaves Sam's office and walks by the kitchen area.)
Lafayette: Baby girl, don't even let that get you down.
Sookie: Don't let what get me down?
Lafayette: Don't let nothin' get you down. It's the only way to live. Ain't that right, Big John?
Big John: Right.
(Tara draws a pitcher of beer, while Dawn stands at the bar adding up a bill.)
Tara: Hey, how's Jason?
Dawn: (laughing) He's probably pretty pissed off at me right about now, but ... hell, he probably deserves it.
Tara: You know, I have to say I... I'm surprised you and him got back together.
Dawn: No more than I am, baby. Believe me.
Tara: Think it's gonna last?
Dawn: Is there a reason you want to know, Tara?
Tara: No ... but ever since I've been friends with Sookie, I've just gotten a kick out of watching Jason's escapades with women, you know.
Dawn: (nods knowingly and walks away) Sort of.
Sookie: (arriving at the bar area) God only knows what happened to my tables.
Playing on television
Announcer: In other news, a tragic car crash in town has claimed three lives today. Paramedics...
(As Sookie is adding up a bill, her attention is drawn to the television.)
Sookie: Hey, turn it up.
(Tara uses the remote to turn up the volume.)
Playing on television
Announcer: ... Reverend Theodore Newlin, his wife, Yvette, and their 18-month-old daughter, Bethany -- all pronounced dead on arrival at Baylor University Medical Center. There were a total of seven other casualties as well in the freak accident, apparently caused when a freeway sign...
Scene 21 - EXT. Bill Compton's House
Edit
Characters Involved
Edit
She drives to Bill's house. There's a car with a license plate that says FANGS 1 out front. Two creepy vampires meet her at the door and the bad tattooed guy from the sex tape sneaks up behind her. They bare their fangs and hiss.
Transcription
Edit
We are outside the old Compton house. It's still nighttime when Sookie drives up. There are lights on, on the first floor, and Sookie notices another car parked out front which has a bumper sticker reading "VAMPIRES SUCK", a Louisiana license plate reading "FANGS 1", and another bumper sticker reading "HONK IF YOU'RE A BLOOD DONOR!". Sookie walks up to the front door and hesitates as she hears loud music playing. Just as she's about to knock on the door, a black, female vampire opens it.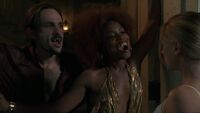 Woman Vampire: Hey there, little human chick.
Sookie: Hi, I'm here to drop off some information about an electrician for Bill Compton. Is he here?
Woman Vampire: Maybe.
(Another vampire, a man, joins the woman vampire at the door.)
Man Vampire: She smells fresh.
(Both vampires display their fangs and begin to snarl at Sookie. Sookie gets a little frightened and turns as if to leave, but finds a third male vampire, bald and tattooed, standing directly behind her. All three vampires continue snarling at Sookie.)
Ad blocker interference detected!
Wikia is a free-to-use site that makes money from advertising. We have a modified experience for viewers using ad blockers

Wikia is not accessible if you've made further modifications. Remove the custom ad blocker rule(s) and the page will load as expected.