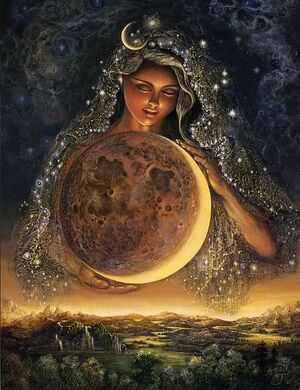 The Moon Goddess, also known as the Great Mother, is the main female deity of the Neopagan religion of Wicca. On the HBO original series True Blood, she was commonly called upon by witches in spells and rituals, and is the embodiment of Nature.
Background
Edit
A Wiccan barmaid at Merlotte's, Holly Cleary, performed a ritual that would abort Arlene Bellefleur's unwanted and unborn baby. She did this by invoking "The Great Mother" and having Arlene drink an herbal tea with a drop of Arlene's blood she concocted.
While trapped inside Moon Goddess Emporium, Holly is convincing Tara to try to rid themselves of Martonia's spell by believing in the Goddess. They perform a Latin spell that involved the Moon Goddess and successfully broke Martonia's spell.
Known Believers
Edit