Mentioned in
{{{Mentioned}}}
Date of birth
May 10, 1977
Date of death
{{{dateofdeath}}}
Place of birth
Houston, Texas, USA
Place of death
{{{deathplace}}}
[{{{imdb}}} IMDB Site]
[{{{website}}} Official Site]
[{{{facebook}}} Facebook]
[{{{myspace}}} Myspace]
[{{{twitter}}} Twitter]
[[:Category:{{{Images}}}|Images]]
Todd Lowe, born May 10, 1977 in Houston, Texas, is an American actor who plays the role of Terry Bellefleur on the HBO original series True Blood. Making his debut on the episode "The First Taste", in the series' first season, Todd plays the role of an Iraqi war veteran suffering from PTSD. Disturbed by actions he took during his service, he now works at Merlotte's Bar and Grill as a cook. Initially appearing as a recurring co-starring actor in the series' first season, Todd returned as a starring actor through the series' second, third, fourth, fifth and sixth seasons. According to his wife Arlene, he had numerous physical scars as well as psychological scars, and during the series' sixth season, after he could no longer live with his conscience, he met with a fellow former marine and requested he end his life. While working a day shift at Merlotte's, Todd was shot and killed, thus meeting an untimely demise, on the Season 6 episode "Life Matters". He appears once more, as a ghost, on the episode "Death is Not the End" in the series' seventh, and final, season.
Biography
Edit
Todd Lowe (born May 10, 1977) is an American actor from Humble, Texas, about fifteen miles from Houston. He is best known for his role as Lane Kim's husband Zach Van Gerbig on Gilmore Girls. Lowe has a starring role on HBO's True Blood as Terry Bellefleur. Lowe plays a PTSD plagued Iraqi War veteran who works as a short order cook at Merlotte's Bar & Grill.
In addition to television and film, Todd has starred in over twenty stage productions and has worked on several plays written by playwright, Justin Tanner.
Lowe is also singer and guitarist for Pilbilly Knights, a country-rock band based in Los Angeles. The band released a compact disc, California Night Club (sic) in January 2007.
Lowe is a graduate of The University of Texas at Austin graduating with a Bachelors of Fine Arts in 1999. While looking for jobs as an actor Lowe was a substitute teacher.
He was interested in acting at an early age and won the B. Iden Payne Award as best comedy featured actor (for Three Cuckolds) when he was 18. He has a girlfriend, Sasha, who is a dancer. He also has a country band called "Pilbilly Knights."
Filmography
Edit
Redline (2007)
My Dinner With Jimi (2003)
The Princess Diaries (2001)
Where The Heart Is (2000)
A Texas Funeral (1999)
Television
Edit
CSI (2011)
True Blood (2008-2013)
Gilmore Girls (2002-2007)
Walker, Texas Ranger (1997-1999)
| | |
| --- | --- |
| | There is an image gallery for |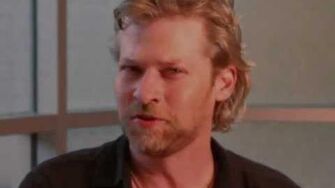 Trading Cards
Edit
Appearances
Edit
Season seven appearances
"Jesus Gonna Be Here"
"I Found You"
"Fire in the Hole"
"

Death is Not the End

"
"Lost Cause"
"Karma"
"May be the Last Time"
"Almost home"
"Love is to Die"
"Thank you"
Ad blocker interference detected!
Wikia is a free-to-use site that makes money from advertising. We have a modified experience for viewers using ad blockers

Wikia is not accessible if you've made further modifications. Remove the custom ad blocker rule(s) and the page will load as expected.